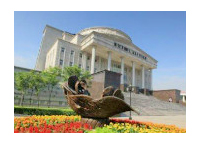 Invitation to IAUP Semi-Annual Meeting in China
IAUP will hold its next Semi-Annual Meeting on the Sias International University campus in Henan Province, China, from September 23-26, 2013 and all IAUP members are cordially invited to this meeting. The gathering will include business meetings of IAUP Executive Committee and Board of Directors as well as a China International Education Seminar..
Please see the attached documents for the official invitation letter containing detailed registration information and a website with additional information (http://iaup.sias.edu.cn). For any further questions and inquiries, please contact William Lu, Director of International Cooperation and Exchange Department, Sias International University, at aupsias@hotmail.com.