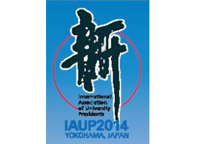 Great Success of the XVII IAUP Triennial Conference
The IAUP XVII Triennial Conference was held in Yokohama, Japan from June 11-14, 2014 with complete success. About 400 participants from around the world gathered in the most important event of our association every three years. This marked the second time that a triennial conference was held in Japan. The X Triennial Conference was held in Kobe, Japan on July 11-14, 1993.
The Secretary of the United Nations, H.E. Bank i-Moon, addressed the audience through a video message. Mr. Peter Launsky-Tieffenthal, Under Secretary General of the United Nations, presented his remarks shortly before the video was presented. The highest authorities from Japan nationally (Ministry of Education, Culture, Sports Science and Technology) and locally (Mayor of Yokohama) presided the opening ceremony and addressed the audience as well, delivering inspiring speeches. So did Dr. David M. Malone, Rector of the United Nations University. Chancellor Toyoshi Satow, Chancellor of J. F. Oberlin University and now President of IAUP, was the host of this conference and welcomed the participants. Dr. Neal King, still President of the IAUP at the opening, also presented his remarks as part of the opening program.
Prominent speakers from the United Nations, the UNESCO, the International Association of Universities (IAU,) the International Network for Quality Assurance Agencies in Higher Education (INQAAHE,) the World University Consortium (WUC,) the American Council on Education (ACE,) and many other worldwide and regional organizations marked the highest level of representation in the academic program.
Chancellors, Vice Chancellors, Rectors and University Presidents representing all the regions of the planet were also presenters in the program and participants in the rich discussions during the triennial. For the first time in the history of the IAUP, the students were the speakers in a plenary sessions entitled "Voices of the Future." This plenary session was also highly successful.
The General Assembly ratified the new appointments for Officers and Officers-Elect of the IAUP for the Triennium 2014-2017, as follows:
Officers
Dr. Toyoshi Satow, President
Dr. Alvaro Romo, Secretary General
Dr. Ichiro Tanioka, Treasurer
Dr. Yoshiro Tanaka, Deputy Secretary General
Officers Elect
Dr. Kakha Shengelia, President-Elect
Dr. Gerald Reisinger, Secretary General-Elect
Dr. Elizabeth Davis-Russell, Treasurer-Elect
The Officers-Elect are responsible for preparing the next Triennial Conference in 2017. The venue was approved and the city of Vienna, Austria was selected.