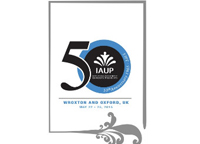 50th Anniversary of the IAUP
The International Association of University Presidents returned to the location of its first ever meeting – Oxford and Wroxton, United Kingdom. Conference venues included Oxford University's Trinity College, which hosted one day of the historic 1965 meeting, and Fairleigh Dickinson University's Wroxton College, which hosted the other day. For five decades the International Association of University Presidents, or IAUP, has served as the voice of global higher education, promoting peace, mutual understanding and respect through academic diplomacy and fostering the vitality and reach of higher education institutions through energetic international partnerships.
In Oxford and Wroxton, United Kingdom, nearly 150 university leaders and other participants from 37 countries gathered on May 22-24, 2015, for its 50th Anniversary Conference Meeting to celebrate IAUP's achievements and consider the challenges facing higher education and the wider world in the next 50 years. University World News (UWN,) has been IAUP's media partner and reported on several presentations made during the conference, including a report by Brendan O'Malley, a distinguished and worldwide known journalist with UWN.
During the first day, Friday, May 22nd, during the Welcome Reception, Vice Chancellor Andrew Hamilton of Oxford University, as well as Mr. Sheldon Drucker, President of Fairleigh Dickinson University (FDU) and one of the co-sponsors of the whole event, and IAUP President, Prof. Toyoshi Satow welcomed the participants to this outstanding celebration.
Saturday, May 23rd included the following: IAUP Business Meetings at Wroxton College, Fairleigh Dickinson University; Networking Lunch at Wroxton College, Fairleigh Dickinson University; 50th Anniversary Keynote and Commemoration at Wroxton College, Fairleigh Dickinson University. The commemoration keynote speaker was Dr. Inwon Choue, President of Kyung Hee University (KHU,) who along with President Drucker was the co-host of the entire conference meeting. Both FDU and KHU were founding institutions of IAUP. Two other founding institutions participated: The University of Puerto Rico and the University of Liberia.  A Gala Dinner was held at Oxford's Ashmolean Museum, that night, sponsored by Fairleigh Dickinson University.
On Sunday May 24th, an Academic Conference: Higher Education in 2065, was held at Trinity College, Oxford University with an impressive roster of worldwide known academic personalities.  The conference featured a keynote address by Professor Sir Nigel Thrift, Vice Chancellor of University of Warwick. A Networking Lunch at Trinity College, Oxford University, was held after the conference and the day was capped by a Farewell Dinner at the iconic Rhodes House, sponsored by Kyung Hee University.
Other sponsors and partners included ELS English Language Schools, Seoul Cyber University, University World News, the Institute for International Education, and the United Nations Academic Impact Program.
For a gallery of photographs, please click here.
The proceedings will be published next year 2016, by Fairleigh Dickinson University Press, to complement the 1965 proceedings.