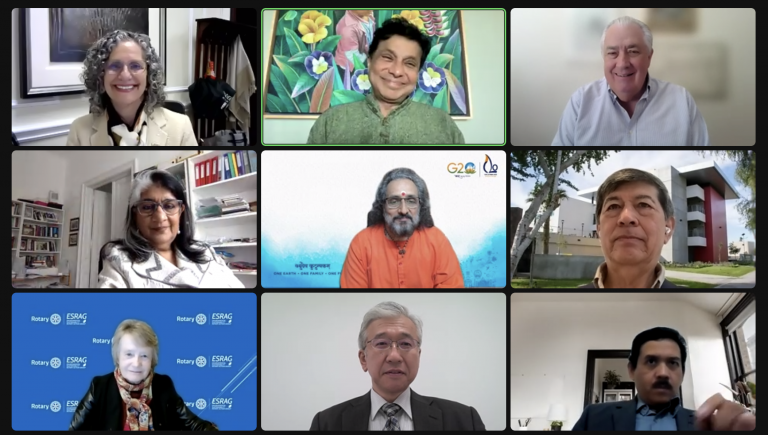 Reflecting on the Crucial Role of Universities in Addressing Global Environmental Challenges
On June 5, 2023, the first session of the 2023 IAUP Webinar Series, titled "A Planet to Lose: Reflections on World Environment Day", took place, bringing together international experts to discuss the vital role universities can play in tackling global environmental challenges.
The webinar featured renowned speakers, including Dr. Devorah Lieberman, President of the University of La Verne; Pat Armstrong, Chair of the International Rotary Action Group for Environmental Sustainability; Dr. Emlyn Koster, Director Emeritus of the Royal Tyrrell Museum of Palaeontology; Hiro Sakurai, Director of the Office for UN Affairs at Soka Gakkai International (SGI); Shalini Randeria, President of the Central European University, and Swamiji Amritaswarupananda Puri, Vice-Chairman of the Mata Amritanandamayi Math and President of Amrita Vishwa Vidyapeetham (Amrita University).
Discussions centered around the different contributions that universities can make to address pressing global challenges. Dr. Lieberman emphasized the significance of institutions' civic engagement and their mission to instill a sense of responsibility in their students. The consensus was that while teaching scientific knowledge is crucial, it must be accompanied by the values necessary to translate it into action.
One significant aspect that emerged was the important role of transnational civil society organizations in driving change. Speakers like Dr. Armstrong, highlighted the work carried out by bodies such as Rotary and faith-based groups in advocating for environmental sustainability, which, through collaborative efforts with  universities that produce scientific knowledge, are powerful drivers in pressuring governments and international bodies to take action.
The urgency of collective action in tackling climate change and resource depletion was also addressed, with speakers acknowledging that these challenges require systemic changes in how resources are both produced and consumed. Additionally, they stressed the significance of a comprehensive and inclusive approach to environmental concerns.
Overall, the webinar underscored that by leveraging scientific expertise, instilling values in students, and working alongside transnational organizations, institutions can significantly contribute to a sustainable future.