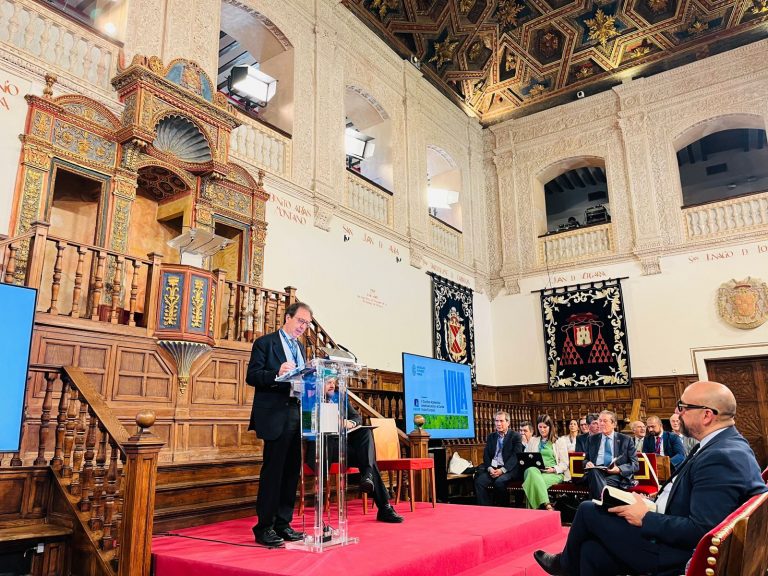 IAUP President and Secretary General at the Fifth Academic Summit LAC-EU
IAUP President Dr Fernando León García and Secretary General Dr Fernando Galván participated in the Fifth Academic Summit on Latin America, the Caribbean and the European Union (LAC-EU) held at the University of Alcalá, Spain, July 6-8, 2023. This event was jointly organized by the Permanent Academic Forum LAC-EU and the University of Alcalá. Over 200 members and leaders of Latin American, Caribbean and European universities discussed current issues and challenges in HE, science, technology and innovation, including, among others, climate change, UN SDGs, digital transformation, AI, connectivity, circular economy, genre and HE, as well as students' mobility, all of them in terms of bi-regional cooperation.
A representation of ESN (Erasmus Student Network) was also part of the event, as well as institutional authorities at European and national level (from the European Parliament, the EU-LAC Foundation, the Organization of Ibero-American States for Education, Science and Culture, UNESCO-IESALC, the Spanish Ministry of Universities, or the President of the Spanish Conference of University Presidents). IAUP President was a panellist at a round table with presidents of universities from Latin America and Europe and took part also in a discussion group on the future of HE in the two regions. The conclusions of this Academic Summit were presented to the EEAS (European External Action Service) in the form of a proposal of a bi-regional academic integration agreement to be considered at the Third CELAC-EU Summit of Heads of State and Government held in Brussels July 17-18, 2023.