12th Cross-Cultural Business Conference 2023
May 11, 2023

-

May 12, 2023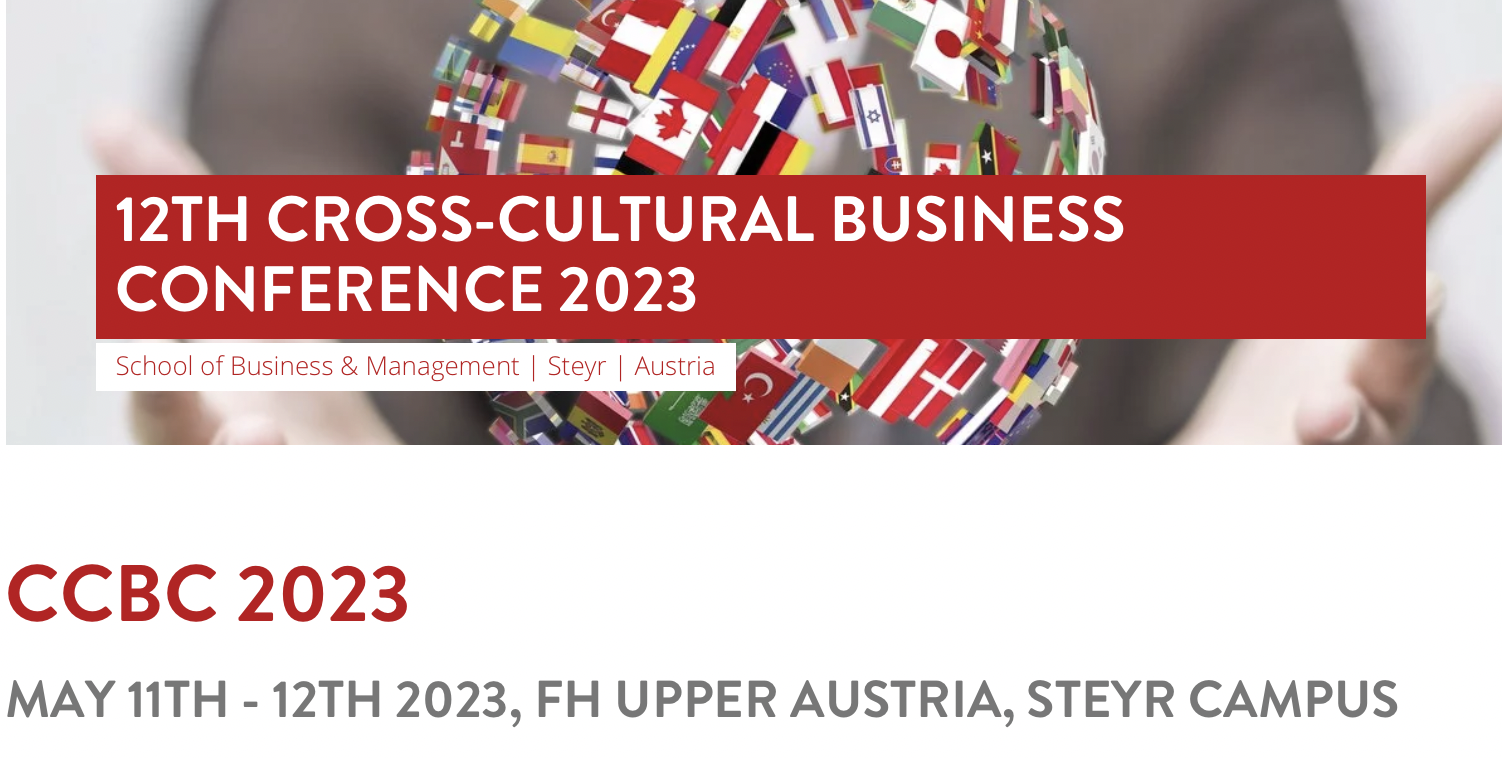 The Research Area Global Business Management at the University of Applied Sciences Upper Austria, Campus Steyr, would like to remind you of the 12th Cross-Cultural Business Conference 2023 from 11th to 12th May 2023.
The CCBC 2023 provides an opportunity for lecturers and researchers to advance knowledge and discuss the latest developments in the fields of Global Business, Marketing, Sales and Service Management, Innovation and Entrepreneurship, Higher Education Research, Teaching and Learning and Human Resources Management.
Submissions: Authors are encouraged to prepare and submit papers for the following sessions:
Intercultural or International Perspectives in:
Session A: Global Business and Export Management
Session B: Marketing, Sales and Service Management
Session C: Higher Education Research, Teaching and Learning
Session D: Innovation and Entrepreneurship
Session E: Human Resource Management
Highlights:
>> Conference Dinner
>> Social Events
>> International lecturers, practitioners and students
>> Journal Partnership
>> Conference proceedings with ISBN number
Please have a look at all further information in the Call for Papers which you can find here: Call for Papers CCBC2023
Please mind the application deadline for the submission of an extended abstract (of max. 2 Pages) on January 31st, 2023.
Please, find further information: CCBC 2023
We cordially welcome faculty members, researchers and practitioners to participate in this event, either with a scientific contribution at the conference or as a regular participant.
We are looking forward to receiving your contributions and to finally being able to welcome you in Steyr again.
Best regards,
The Cross-Cultural Business Conference Team
Margarethe Überwimmer
Robert Füreder
Aline Kesehage
Ketki Medhekar
University of Applied Sciences Upper Austria
FH OÖ Forschungs- & Entwicklungs GmbH
Campus Steyr
Wehrgrabengasse 1-3
A-4400 Steyr/Austria
Email: cc-conference@fh-steyr.at