8th Annual Diversity, Equity and Inclusion Conference: Focusing on Next Level Equity Work in a Time of Transition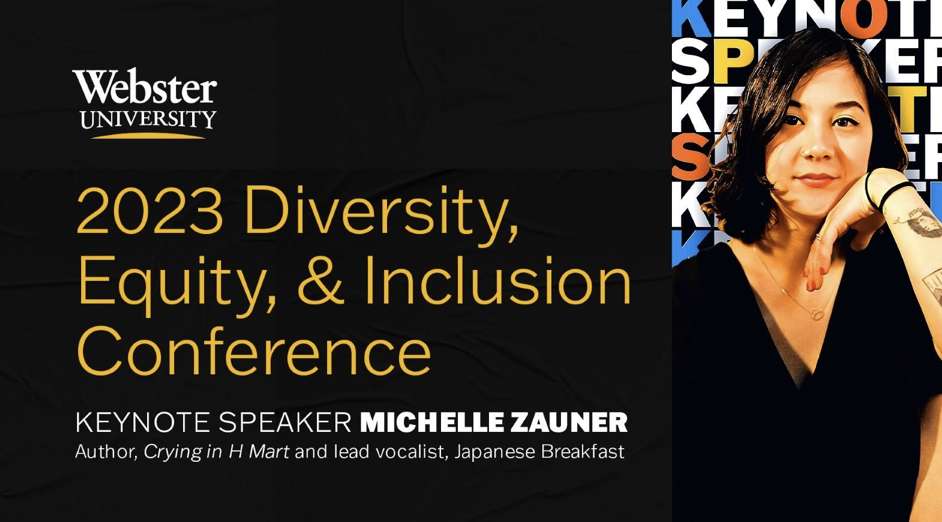 Webster University's eighth annual Diversity, Equity & Inclusion Conference, themed "Focusing on Next-Level Equity Work in a Time of Transition," will be held Feb. 27 through March 1, 2023. It will be offered both virtual and in-person on the University's main campus in St. Louis.
Sessions will include: Immigrant Neighbors, Gender and Sexual Identity, Gun Violence and Trauma Healing, Neurodiversity, and Diverse Workforce Development. 
Webster University invites all to attend this international gathering of scholars, students, community members and other esteemed partners deeply committed to all things DEI. The 2022 Conference attracted nearly 2,000 participants from 21 countries across the globe.
Registration is open for all conference sessions as well as the keynote session featuring Michelle Zauner, bestselling author of "Crying in H Mart" and lead vocalist of Japanese Breakfast. The keynote session will be held in a conversation format that includes Michelle Li, 5 On Your Side news anchor and last year's DEI Conference recipient of the Game Changer of the Year Award. The keynote session will be Monday evening, Feb. 27, at 7 p.m. Central Time.
The conference will be held in-person with a livestream option. The conference is free and open to the public; however, registration is required. For the full agenda and to register, visit webster.edu/deiconference2023