Cross-Cultural Business Conference 2022
May 12, 2022

-

May 13, 2022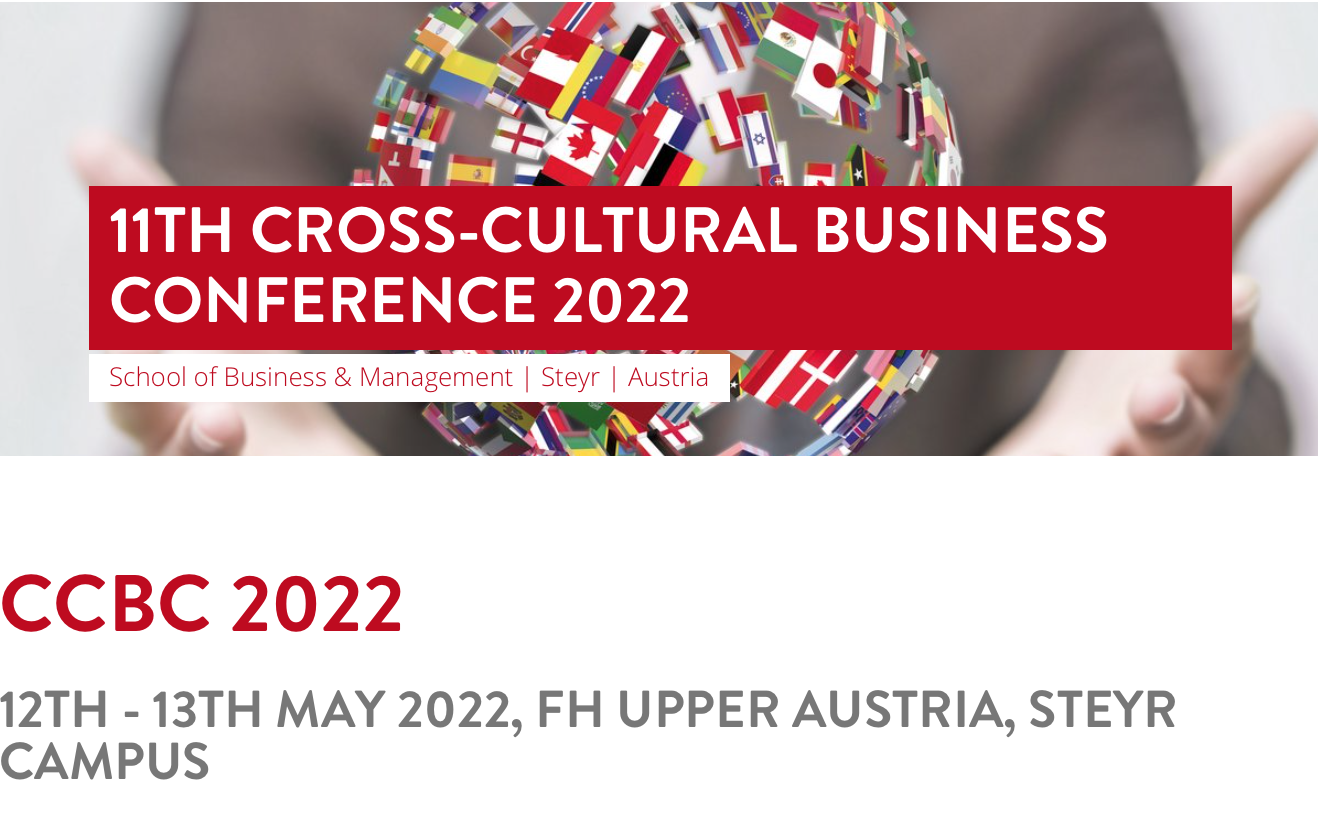 The Study Programme "Global Sales and Marketing" at the University of Applied Sciences Upper Austria, Campus Steyr, cordially invites you to the Cross-Cultural Business Conference 2022 at our beautiful campus in Steyr!
Let's meet:       12th – 13th May 2022

What is the CCBC?
The CCBC provides an opportunity for lecturers and researchers to advance knowledge and discuss the latest developments in the fields of Global Business,
Marketing, Sales and Service Management, Innovation and Entrepreneurship, Higher Education Research, Teaching and Learning and Human Resources Management.
At this year's CCBC, various interesting contributions will be presented and discussed, such as:
  

A qualitative study on sustainable marketing and strategy applied to creation of value according to SDG's 2030

 

Cross-Cultural Podcasts: How creating interview podcasts increases intercultural sensitivity

 

Diffusion and (mis-)perception of internet trust marks in Germany and Italy – a comparative empirical analysis
We are proud to announce another highlight of our CCBC 2022:
 

Dr. Monica Lopez Sieben

(CETYS University, Mexico)

and

Dr. Richard Griffith

(Florida Institute of Technology, United States) will share their valuable
insights in the form of keynote speeches with all participants at this year's conference.
We are very much looking forward to meeting you again personally and to spending time with you at multiple occasions:
 

Conference Dinner (12th May): This year the conference dinner will be taking place in the beautiful Stift Schlierbach where we will be able to enjoy the end
of the first conference day in a cozy atmosphere.
Networking Lunch (12th May): The networking lunch will take place in the lunch break of the first conference day on our beautiful campus and will offer
plenty possibilities to exchange ideas.
Farewell Lunch (13th May): The farewell lunch will take place after the final sessions on the second conference day on our beautiful campus again and
offers the chance to reflect on the conference together in a relaxed atmosphere.
Please find all further information online: https://www.fh-ooe.at/en/cross-cultural-business-conference-2022/
You can use the following link to register as a participant of the CCBC 2022: CCBC 2022 – ConfTool