IAUP Webinar Series: "A Planet to Lose"- Reflections on World Environment Day
June 5 @ 7:00 am

-

8:30 am

PDT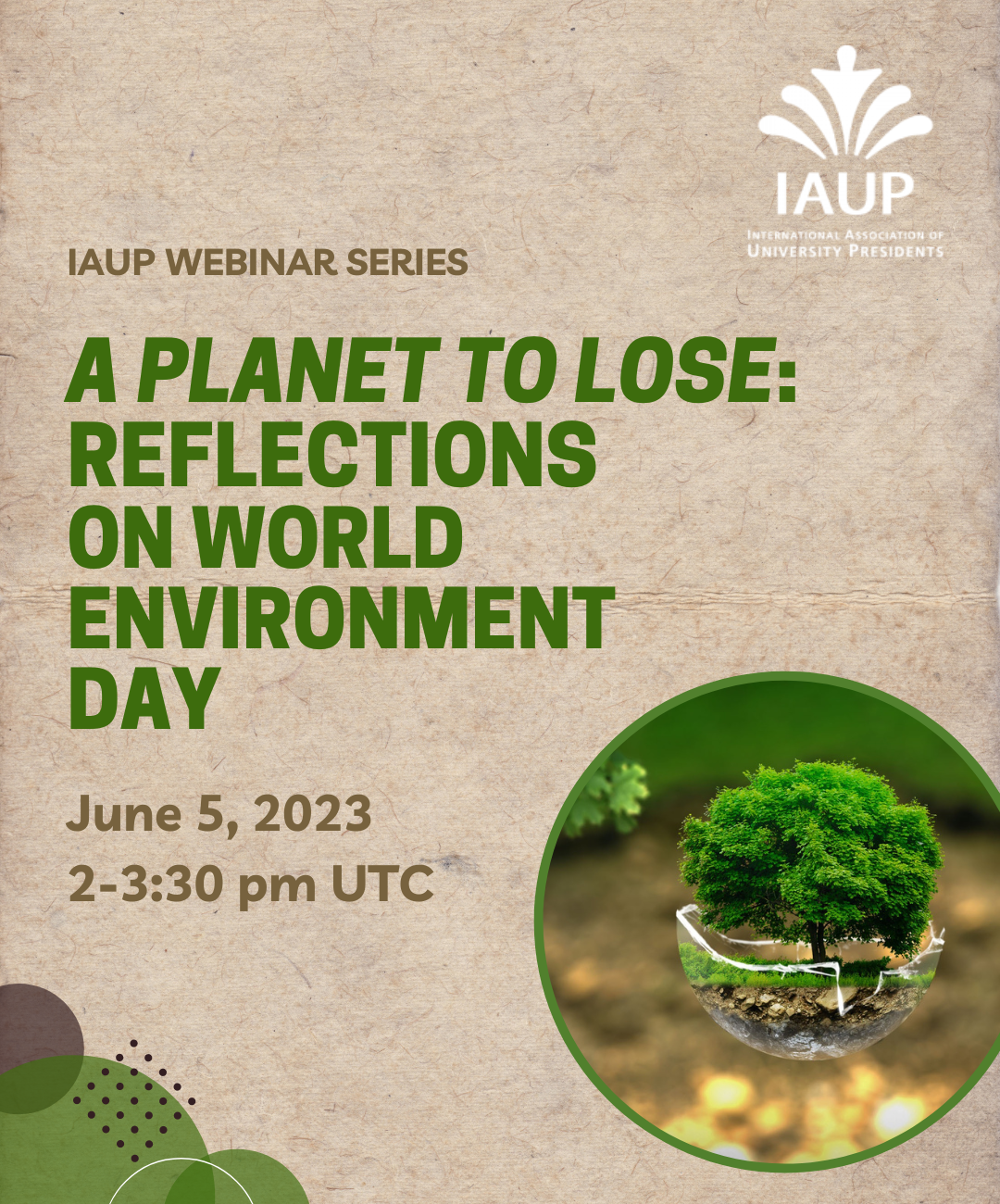 Fifty years ago, the United Nations declared June 5 as World Environment Day. Its observances since 1973 have augured hope and resolve. Equally, they have voiced fear and uncertainty. What has become clear over this half century is that "the environment" affects every dimension of human living , the life of other species around us, the integrity of our planet itself.
Educators play a pivotal role in its safeguarding. It is their research that offers solutions. It is on their campuses that innovative ideas can be tried and tested. It is their discipline that animates other fields working in the area, including business enterprise , civil society organizations and the United Nations itself.
Join us as we explore today's dangers and tomorrow's opportunities , in our resolve not to let today's opportunities be squandered to tomorrow's dangers. For we have a planet to lose.
REGISTER HERE.
Speakers:
Dr. Devorah Lieberman, President, University of La Verne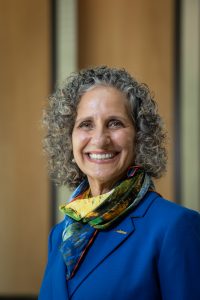 Dr. Devorah Lieberman is the 18th president of the University of La Verne, a nationally ranked and Carnegie-recognized private institution for civic and community engagement, located  in Southern California. Some of her primary accomplishments include: establishing a College Health and Community Well Being; instituting the La Verne Experience; raising $128 million in the largest comprehensive campaign in institutional history; significantly increasing funding for student scholarships; expanding the international student population; increasing the number of named colleges, endowed deans, and endowed faculty positions and significantly increasing the institutional endowment. Dr Lieberman is a member of the IAUP Executive Committee as well as Chair-Elect of the New American Colleges & Universities (NAC&U). She has broadly published books and articles in higher education literature on the topics of intercultural communication, faculty development, diversity, and institutional transformation.
Dr Emlyn Koster, Director Emeritus, Royal Tyrrell Museum of Palaeontology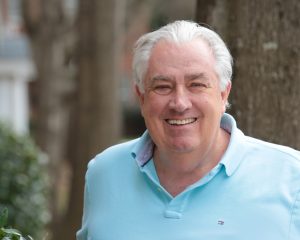 Emlyn was born in the Suez Canal Zone and has British, Canadian and American citizenships. Elected 50th anniversary chair of the Geological Association of Canada in 1996 and recognized by the American Conference on Diversity with a Humanitarian of the Year award in 2008, he was a Faculty of Science alumni of excellence honoree at Canada's University of Ottawa in 2019. A geoscientist who became a nature and science museum leader, an integrated approach to the Anthropocene is his focus.
Shalini Randeria, President, Central European University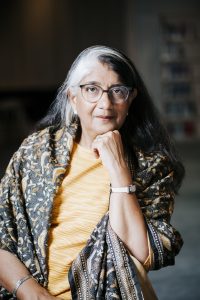 Shalini Randeria was elected as president and rector of Central European University in 2021. She is the first woman, and the first person from the Global South, to take up this position since the founding of the university 30 years ago. Randeria has had a distinguished academic career as a sociologist/social anthropologist at institutions of higher education across Europe. She was rector of the Institute for Human Sciences, Vienna, and a professor at the Graduate Institute of International and Development Studies, Geneva, where she directed the Albert Hirschman Centre on Democracy. Randeria holds the Excellence Chair at the University of Bremen, where she leads a research group on "soft authoritarianisms." She is deputy chair of the Class of Social and Related Sciences, Academia Europaea and a distinguished fellow of the Munk School, Toronto University. Randeria has published widely on the anthropology of globalization, law, the state, and social movements with a regional focus on India. Her influential podcast series, Democracy in Question, launched in 2021, is in its sixth season.
Swamiji Amritaswarupananda Puri, Vice-Chairman of the Mata Amritanandamayi Math and President of Amrita Vishwa Vidyapeetham (Amrita University)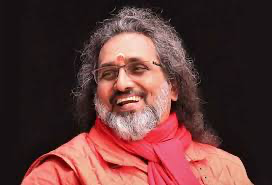 Swamiji Amritaswarupananda Puri is the Vice-Chairman of the Mata Amritanandamayi Math and President of Amrita Vishwa Vidyapeetham (Amrita University). He is the head disciple of renowned humanitarian and spiritual leader Sri Mata Amritanandamayi Devi (Amma). He has been living in Amritapuri Ashram since its inception in the late 1970s. He holds a Master's in Philosophy and is a renowned author and translator, has written: "The Irresistible Attraction of Divinity" (2019) and
"The Colour of the Rainbow: Compassionate Leadership" (2014), as well as Amma's Biography. He has also translated into English more than 10 volumes of conversations between Amma and devotees, for which he also served as a compiler. He is a magnificent singer and composer of bhajans and has traveled around the world more than 30 times with Amma in her service.
Hiro Sakurai, Director of the Office for UN Affairs at the Soka Gakkai International (SGI)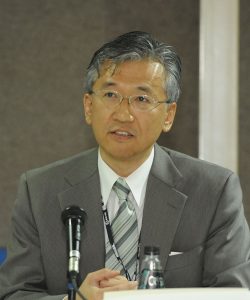 Since 2015, Hiro Sakurai has been serving as the Director of the Office for UN Affairs at the Soka Gakkai International (SGI) and managing its UN offices in New York and Geneva which mainly cover the areas including peace and disarmament, sustainable development, climate justice, human rights education, and gender justice. Since 1997, Hiro has been based in New York as SGI's representative to the UN and assumed various responsibilities including: President of the Committee of Religious
NGOs at the United Nations (2004-2007 and 2019-2022); founding member of the Tripartite Forum on Interfaith Cooperation for Peace (2006); Civil Society Task Force member for the General Assembly High-level Dialogue on Interreligious and
Intercultural Cooperation and Understanding for Peace (2007); President of the NGO Committee on Disarmament, Peace and Security (2009-2012); founding member of the Global Movement for the Culture of Peace (2010-); Convener of the Asia Pacific Faith-based Coalition for Sustainable Development (APFC) (2018-2019), and member of the Multi-faith Advisory Council (MFAC) to the United Nations Interagency Task Force on Religion and Sustainable Development (IATF) (2021-). Hiro has also helped SGI's non-formal education projects including the production of an environmental education film A Quiet Revolution, exhibitions and lecture series on the culture of peace, a youth nonviolence initiative the Victory Over Violence, a grassroots nuclear disarmament project, Peoples Decade for Nuclear Abolition.
Dr. Elizabeth Kyoko Wada, Professor, Universidade Anhembi Morumbi, Brazil