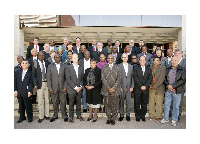 IAUP/UNAI Cohosted Colloquium in South Africa
The United Nations Academic Impact (UNAI) and the International Association of University Presidents (IAUP) jointly sponsored a two-day colloquium on Global Citizenship and International Partnership in Bloemfontein, South Africa from August 19-20, 2013. The event was hosted by the Central University of Technology Free State (CUT), with the gracious hospitality of Vice Chancellor Thandwa Z. Mthembu, a member of the IAUP Executive Committee.
Many distinguished speakers from Africa and around the world participated in the colloquium program: Mr. Ramu Damodaran, Chief of UNAI and Deputy Director for Partnership and Public Engagement in the United Nations Department of Public Information's Outreach Division; IAUP Secretary General-Elect Dr. Alvaro Romo; and Dr. Hans de Wit, Professor of Internationalization of Higher Education, Centre for Applied Research in Economics and Management, Amsterdam University of Applied Sciences.
Immediately following the colloquium, the 17th Annual Conference of the International Education Association of South Africa (IEASA) was held at Central University of Technology (CUT) from August 21-23, 2013. Mr. Ramu Damodaran was the keynote speaker of the conference. On Friday, August 23, a panel on Global Citizenship was held and included keynote addresses by Mr. Ramu Damodaran, Dr. Alvaro Romo, Professor Thandwa Mthembu, Dr. Henry Maitles (Professor of Education at the University of the West of Scotland), and Dr. Hans.Georg van Liempd (President of the European Association of International Education).
A rich collection of presentations, including plenary panels on Brazilian international education, the Finnish System and the French System took place on August 22. The conference ended with a series of parallel sessions with presentations by local and international speakers.