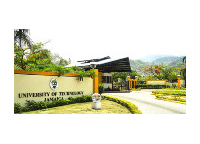 Invitation to IAUP Semi-Annual Meeting in Jamaica
IAUP will hold its next Semi-Annual Meeting at the Hilton Rose Hall Resort and Spa in Montego Bay, Jamaica from January 30 – February 2, 2014. All IAUP members are cordially invited to this meeting hosted by the University of Technology, Jamaica. The gathering will include business meetings of IAUP Executive Committee and Board of Directors as well as discussions on major issues facing higher education today within a global and cross-cultural context.
Please see the attached documents for the program brochure, registration form and visa requirements. For additional information, please visit http://www.utech.edu.jm/iaup. For any further questions and inquiries, please contact Ivor Bennett, Director of Marking at the University of Technology, Jamaica, at marketing@utech.edu.jm or 876-970-5099.
Jamaica Program Brochure
Jamaica Registration Form
Jamaica Visa Requirement