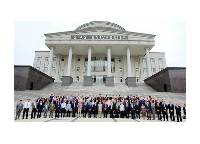 IAUP in China for Semi-Annual Meeting
Hosted by Dr. Shawn Chen, President of Sias International University, and chaired by Dr. Neal King, President of the IAUP and President of Sofia University (USA), the fifth Semi-Annual meeting of the 2011-14 Triennium convened in Xinzheng, Henan, China from September 23-26, 2013. IAUP members in attendance come from Austria, Brazil, Czech Republic, Denmark, Republic of Georgia, India, Japan, Jamaica, Liberia, Mexico, Pakistan, South Africa, South Korea, Thailand, USA, and dozens of universities from China.
The IAUP attendees were welcome by Mr. Xu Ji Chao, the Vice-Governor of Henan Province who highlighted the economic potential of the province which accounted for 10% of China's entire population. The welcome speech was followed by a series of keynote addresses delivered by distinguished speakers including Professor Lin Jinhui, Director of Center for Research on Chinese-Foreign Cooperation at Xiamen University; Professor Lui Lin, Party Secretary and Executive Vice President of Beijing City University; Mr. Feng Gang, General Manager of Jin Jilie Overseas Education Corporation in Zhengshou; and Mr. Li Jinsong, CEO of Tang Chinese Education and Technology Corporation.  Various members of the IAUP Executive Committee and Council of Senior Advisors also participated in the discussions on a variety of topics including Current Situation and Development of Sino-Foreign Education in China,  Anticipated Changes and Development in Higher Education, Market Analysis of Studying Abroad and Prediction of Future Development, and Creating Platform for Communication in Chinese Language and Culture.
IAUP President Dr. Neal King reported on the many initiatives and partnerships undertaken by the current Presidency in strengthening the role of IAUP as the global voice in higher education. IAUP President-elect Dr. Toyoshi Satow provided an update on preparations for the XVII IAUP Triennial Conference, to be held in Yokohama, Japan, June 11-14, 2014. Members also discussed plans for the next IAUP Semi-Annual Meeting, to be held in Montego Bay, Jamaica from January 30 to February 1, 2014 and presented by Dr. Errol Morrison, President of University of Technology, who will serve as host. The full schedule of IAUP Semi-Annual Meetings is available here. Other presentations and discussions included nominations for the 2017-2020 IAUP Presidency followed by nominee introduction, updates from IAUP regional chairs, and the Changing Nature of War Conference. In addition, an IAUP flag-raising ceremony was held in front of the Sias Administrative Building and dozens of international educational partnerships were signed by attendees from China and other countries.
IAUP Semi-Annual Meetings are organized to fill the gap between triennials. All IAUP members are invited and encouraged to attend these gatherings of higher education chief executives, which afford unique opportunities for the development of international partnerships.  The Semi-Annual Meetings also include meetings of the IAUP Executive Committee, the IAUP Board of Directors, the IAUP/UN Commission on Disarmament Education, Conflict Prevention, and Peace, the IAUP/Microsoft Academic Summit Taskforce, the IAUP/CAEL 21st Century Skills Commission, and other special working groups.