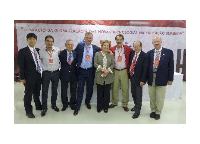 IESB-Brasilia Seminar
The IESB University Center in Brasilia, Brazil, recently held an International Seminar on "The Impact of Globalization and New Technologies on Higher Education." This seminar was co-sponsored by the IAUP and the United Nations Academic Impact (UNAI) and took place on November 11-12, 2013. The attendees came from throughout Brazil as well as other countries.
The opening ceremony was hosted by Dr. Eda C.B. Machado de Souza, Rector of IESB and included Ms. Denise Lima, representative of the Higher Education Secretary of the Ministry of Education of Brazil, Dr. Neal King, the President of the IAUP, Mr. Ramu Damodaran, from the UNAI Program at the United Nations, and Mr. Marco Moutinho, of Santander Universities.
Special plenary session presenters and panelists on the first day of conference included Dr. Claudio Rama, former Director of the UNESCO Institute for Higher Education in Latin America and the Caribbean,  Rector Antonio Leaño (of the UAG in Guadalajara, Mexico), President Kakha Shengelia (of Caucasus University, Republic of Georgia), Mr. Edson Machado de Souza Filho, Professor Frederic M. Litto (President of the Brazilian Association of Distance Education –ABED) and Professor Francisco Botelho (of IESB).
Finally, there was also a presentation on the 2014 IAUP Triennial Conference by Professor Alvaro Romo and Mr. Tatsuro Tanioka (of Osaka University of Commerce, Japan).Presentations on the second day included: "UNAI, a New Perspective: Teaching for the United Nations," by Mr. Ramu Damodaran and comments by Rector Eda C.B. Machado de Souza; a plenary panel on "The IAUP, Past, Present and Future" with the participation as speakers of the President of IAUP, Dr. Neal King, President Kakha Shengelia, and Professor Alvaro Romo, IAUP Secretary General-elect.
A final summary and comments were presented by Dr. Heitor Gurgulino de Souza, Emeritus Secretary General of IAUP and main coordinator of the activities of the seminar and Dr. Eda C.B. Machado de Souza.