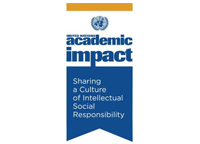 UNAI/ELS Essay Contest
IAUP invites members to nominate students for the UNAI/ELS Essay Contest. Winners will be sponsored to participate in a Global Youth Forum to take place between June 25-29, 2014 at the United Nations in New York City.
ELS and the United Nations Academic Impact global initiative are working together to promote multilingualism through the Many Languages, One World Essay Competition and Global Youth Forum.  The goal is to promote multilingualism and the continued study of the United Nations' six official languages: Arabic, Chinese, English, French, Russian and Spanish.  To qualify, entries must be in an official language of the United Nations that is not the entrant's first language or language of instruction in his or her primary or secondary education.
"Our collaboration focuses on two of the priorities of the Secretary-General, one being youth and the other multiculturalism, and this is a wonderful way of bringing those two together," said Peter Launsky-Tieffenthal, Under-Secretary-General for Communications and Public Information of the United Nations, following the signing ceremony launching the contest.
"The role of the UN is the role of every global citizen, which is to make peace and to look at ways to enhance the qualities of life, health, and spiritual fulfillment of peoples around the world through common understanding achieved through dialogue, through a language spoken in common," said Mark W. Harris, CEO and President of ELS Educational Services who will provide sponsorship for the event.
Ten winners will be selected for each of the six official UN languages for a total of sixty- those 60 essay competition winners will be invited to New York where they will attend the UN Many Languages, One World Global Youth Forum.  ELS Educational Services will sponsor travel, room and meals for each of the contest winners to coming to New York, from June 25-29, 2014 to participate in a conference to discuss principles of the UN Academic Impact and formulate action plans to address global issues.  This interaction between speakers of many languages will demonstrate the benefits of multilingualism and multinational collaborative dialogue as part of the United Nations Academic Impact.
All necessary information related to the contest can be found at: http://www.els.edu/en/ManyLanguagesOneWorld. For further questions please contact Mr. John Nicholson, Director of Marketing and Communications at ELS Educational Services (Jnicholson@els.edu).