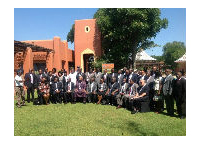 IAUP Regional Conference in Zambia
Approximately forty delegates, including more twenty active and former vice chancellors, gathered in Livingston, Zambia, just a few miles away from the legendary Victoria Falls, from 3 to 5, April 2014.  The conference was attended by delegates from both public and private universities from East Africa, Southern Africa and West Africa.
Co-hosted by Professor Moses Musonda, Acting Vice Chancellor of the Zambian Open University (ZOU), and Prof. Stephen Simukanga, Vice Chancellor of University of Zambia, the theme of the conference was Innovative Approaches to Implementing the Right to Higher Education, while touching on a variety of related issues of broad interest to higher education systems in Africa and beyond
According to Professor Dickson M. Mwansa, immediate past Vice Chancellor of ZOU and principal organizer of the meeting, the conference was envisaged to "provide an opportune platform for delegates to dialogue formally as well as informally over various issues on higher education in Africa and elsewhere."  Professor Mwansa also delivered the inaugural speech, while an official welcome was given by the Zambian Ministry of Education, represented by its Permanent Secretary, Dr. Patrick Nkanza.
Ten papers were presented at the conference:
"Innovative Approaches to Implementing the Right to Higher Education" by Prof Dickson M. Mwansa, former Vice Chancellor, Zambian Open University
"Broadening the bridge: Innovative approaches to  implementing the right to Higher Education" by Prof Primrose Kurasha, Vice Chancellor, Zimbabwe Open University, Zimbabwe
"Promoting the use of Information and Communications Technology (ICT) in broadening  access to Higher Education" by Dr Vitalicy Chifwepa, University Librarian, The University Zambia
"Online learning communities as an alternative leadership solution to higher education challenges in Africa" by  Prof Hellicy Ng'ambi, Vice Chancellor, Mulungushi University
"The Role and Importance of Quality Assurance and how it can be used as a Tool for ODL Advocacy" by Prof  Tolly S.A . Mbwette, Open University of Tanzania and President, African Council for Distance Education
"Collaboration and Partnerships in Open and Distance Learning" by Prof Mutale M. Musonda, Vice Chancellor,  Zambian Open University
"Massification of Higher Education in South Africa: Challenges and opportunities" by Prof Thandwa Z. Mthembu, Vice Chancellor Central University of Technology, Free State, South Africa
"Gender Inclusiveness in University Senior Management: A Zambian Perspective" by  Prof Mubiana Mac'wangi, Director,  Institute of Economic and Social Research, the University of Zambia
"Higher Education without Tears" by Prof Naison Ngoma, Vice Chancellor, Copperbelt University
"Legal aspects of higher education" by Dr Sipula Kabanje, Lecturer, Zambian Open University.
The meeting in Zambia marked the second regional meeting in Sub-Saharan during the 2011-14 Triennial, representing a strong showing and increased interest in IAUP from that region.