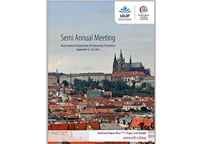 IAUP Prague Semi-annual Meeting
The first IAUP semi-annual meeting of the 2014-2017 triennium was very successfully held in Prague on September 12-14, 2014, with the gracious hospitality of our host, Rector Bohuslava Senkyrová, of the University of Finance and Administration  (VSFS) and the patronage of the President of the Czech Republic, Mr. Miloš Zeman. A representative from the Presidency of the Czech Republic honored us with his presence at the gala dinner on September 14, 2014. IAUP President Toyoshi Satow and Rector Bohuslava Senkyrová both referred to the fact that this meeting marks the very first time that an IAUP meeting takes places in Prague.
The attendance was substantial and, as it has now been customary, -in addition to Executive Committee Members and Advisory Council members- participation was open to all IAUP members. In fact, several local universities participated, as well as partner institutions of VSFS, some of which have since become IAUP members. We welcome them cordially. We had rich networking opportunities, which at least in one case led to an exchange agreement being signed during the event.
During this meeting we had the closing report by the 2011-2014 Presidency and the plans and potential programs for the triennium 2014-2017. It is expected that many of the existing programs will continue and new ones are already taking form. Everyone was encouraged to attend the IAUP 50th Anniversary semi-annual meeting to be held in Oxford and Wroxton, united Kingdom on May 22-24th, 2015. It will be a very special and academically and culturally rewarding event, again with great networking opportunities. IAUP members are encouraged to plan attending. The full report on the planning of this meeting was presented during the IAUP Prague meeting. The IAUP two-volume History of the IAUP is expected to be ready for distribution to all members bThe memories of the elegant hospitality extended by the University of Finance and Administration, led by Rector Bohuslava and her excellent team of collaborators are still fresh. The official group photo of this event accompanies this note.y this date.
We hope to see many of you in Oxford and Wroxton in May next year.