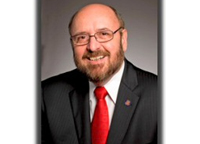 United Nations Lecture Series Named in Honor of J. Michael Adams
UN Secretary-General Ban Ki-moon paid tribute to J. Michael Adams, former president of Fairleigh Dickinson University, at the launch of the new Conversation Series named in his honor.  Organized by the United Nations Academic Impact (UNAI) program, which President Adams helped create, the J. Michael Adams Conversation Series each year will invite a globally renowned scholar to speak to, and interact with, the United Nations community on a subject of global significance and interest.
"Dr. Adams was by my side when we launched UNAI. He had been a constant guide, from the time the UN first suggested the idea to the International Association of University Presidents in 2005, to its formal launch five years later."Remembering Michael Adams, the Secretary-General, said, "He was a pioneer in bringing academia and the UN together. As President of Fairleigh Dickinson, he enabled it to become the first university to receive consultative status with the UN Economic and Social Council."
"We lost Dr. Adams, but I am heartened that the United Nations will keep his spirit and memory alive through this series." FULL TEXT OF SECRETARY-GENERAL BAN'S REMARKS
The inaugural lecture in the series, scheduled to coincide with the anniversary of President Adams' birth, was delivered by the eminent Saudi Arabian scientist, Dr. Hayat Sindi, who is a visiting scholar at Harvard University and a UNESCO Goodwill Ambassador recognized for her efforts in promoting science education in the Middle East, especially for girls.  She is also is a co-founder and director of "Diagnostics for All", a non-profit fusing biotechnology and microfluidics, dedicated to creating low-cost, easy-to-use, point-of-care diagnostics designed specifically for the 60 percent of the developing world that lives beyond the reach of urban hospitals and medical infrastructures.  Dr. Sindi spoke on "Women, Science and our Globalised World."
More than fifty representatives of the Fairleigh Dickinson University community, including students, faculty, and staff, were in attendance.  President Sheldon Drucker led the FDU contingent.  Also present were Mrs. Susan Adams, the former FDU first lady and member of the IAUP Council of Senior Advisors, and Ms. Claire Adams, the granddaughter of Michael and Susan Adams, who is a first-year student at FDU, as well as many friends of the Adams family.  IAUP was represented by President Drucker, member of the IAUP Executive Committee, and former Secretary-General Jason Scorza, member of the IAUP Board of Directors.