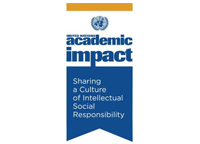 Many Languages, One World
Give your students the opportunity to speak at the United Nations!
We are pleased to announce that ELS and the United Nations Academic Impact global initiative are working together again to support the positive impact of multilingualism through the Many Languages, One World— Student Essay Competition and Youth Forum. Many Languages, One World is a once-in-a-lifetime opportunity for talented, bright multilingual students to present their perspective and opinions at the General Assembly of the United Nations Headquarters in New York City. This year's essay topic asks students to research and reflect on the proposed sustainability goals of the United Nations post-2015 global development agenda.
In 2014, Many Languages One World was a great success for global citizenship and the understanding of the impact of language. Over 4,000 people participated in some aspect of our inaugural competition. Close to 1,500 essays were submitted, with contestants from 128 different countries. The 60 winners represented 26 different countries and 6 continents. College freshmen through doctoral candidates participated in the event. Winners were attending a diverse group of universities around the world, including such esteemed institutions as The University of Basel (Switzerland), Princeton University (USA), and Cornell University (USA), and their areas of study included engineering, political science, language, philosophy, economics, and computer science.
This year, ten winners will be selected from each language group of the six official languages of the United Nations (Arabic, Chinese, English, French, Spanish, and Russian) with an additional ten chosen on merit from the remaining entries in all languages for a total of 70 winners in honor of the 70th year of the United Nations. ELS Educational Services, Inc. will award each winner with an all-expense paid trip to New York during the week of July 20-26, 2015. Students will attend a Global Youth Forum at Adelphi University to prepare to present their views in the General Assembly of the United Nations Headquarters. At the Global Youth Forum, the students will discuss their plans of action addressing selected topics from the United Nations Sustainable Development Goals. These international delegates will also have the opportunity to interact with invited international scholars and tour New York City. The deadline for essay submissions is 11:59 p.m. EST Wednesday March 25, 2015.
Eligibility and Qualifications:
Students 18 years of age and older who are currently enrolled in a full-time program of study at university are eligible to compete to win a place as a delegate to the Preparatory Conference and Global Youth Forum.  Students must be sponsored by a University Faculty Member or Authorized University Representative in order to participate.
The essay should relate to the post-2015 global development agenda, in the context of the 70th anniversary of the United Nations, and the definition of new goals reflecting the imperative of global sustainable development that recognizes, and is enriched by, cultural and linguistic diversity. Students wishing to participate ("Entrants") are encouraged to visit the website http://sustainabledevelopment.un.org for background material in this regard.
Essay submissions are not to exceed 2,000 words. Entries should be in an official language of the United Nations that is not the first language of the Entrant or the principal language of instruction in his or her primary or secondary education. The official languages of the United Nations are Arabic, Chinese, English, French, Russian and Spanish.  For complete contest rules and information on how to enter, please visit www.ManyLanguagesOneWorld.ELS.edu.