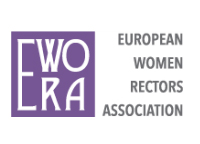 European Women Rectors Association holds inaugural meeting
EWORA
The IAUP is pleased to announce that the European Women Rectors Association (EWORA) will hold its inaugural meeting in Brussels on June 20th, 2016. Among the founding Board members is Dr. Gülsün Saglamer who is a longtime member of the IAUP and always has worked very hard on the promotion of the Role of Women in Higher Education. She will become the President of this organization, EWORA.
The IAUP has always been a pioneer in promoting the study of the role of women in higher education and the advancement of women leaders in higher education leading positions. IAUP Presidents/Rectors/Vice Chancellors are encouraged to attend and participate in the EWORA event, especially women university Presidents.
The European Women Rectors Association (EWORA) is pleased to announce its inauguration ceremony  which will take place in Brussels at the University Foundation/Fondation Universitaire on 20th of June, 2016 between 2pm – 6pm.
European Women Rectors Association (EWORA) is a full-fledged international non-profit association established in Brussels under Belgian Law in December 2015. It aims to promote the role of women in leadership positions in the academic sector and to advocate gender equality in higher education and research at European and international levels. The founding Board Members are Carmen Fenoll, Kristín Ingólfsdóttir, Helena Nazare, Ursula Nelles, Gulsun Saglamer (President), Christina Ullenius and Krista Varantola. EWORA is the continuation of European Women Rectors Platform (EWRP), which has been active since 2008 in organizing biennial European Women Rectors Conferences. (http://beyondtheglassceiling2014.com/)
This inaugural meeting will bring together EU representatives, women university leaders, representatives of major networks of higher education and gender experts in order to assess the opportunities and challenges for empowering women to participate fully in academic leadership positions. EWORA is happy to inform you that Mr. Carlos Moedas, European Commissioner for Research, Science and Innovation will honor us at this meeting with a keynote address.
For registration, please fill in and submit the online form until 30 May,2016.  Meeting admission is free of charge. Kindly note that there is a limited capacity and admittance will be on a first-come, first-served basis.
Registration Link:  https://goo.gl/3ExUoH
EWORA
European Women Rectors Association
11 Rond Point Schuman, B-1040 Brussels, BELGIUM
Tel: + 90 212 284 11 59
Email: info@ewora.org
http://www.ewora.org