IAUP Sponsor at #ACE2022
From March 5-7, 2022, IAUP was one of the sponsors of the largest gathering of university Presidents in the USA: the American Council on Education Annual Meeting. Several IAUP leaders were present, including Executive Committee members Dr. Gerald Reisinger (Austria), Dr. Kakha Shengelia (Georgia), Dr. Fernando León García (Mexico) and Dr. Muhammed Sahin (Turkey), from outside the USA.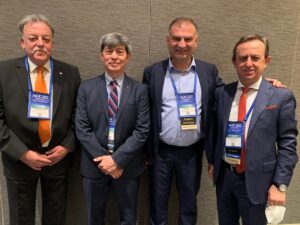 The strategic partnership with Santander Universidades
allowed
IAUP
to once again organize an International Welcome Session, with over 100 university presidents in attendance, as well as the Latin American Delegation Dinner on Sunday March 6, with
 university presidents and distinguished guests from the USA, Mexico, Georgia, Austria, Turkey, Perú, and Ecuador.