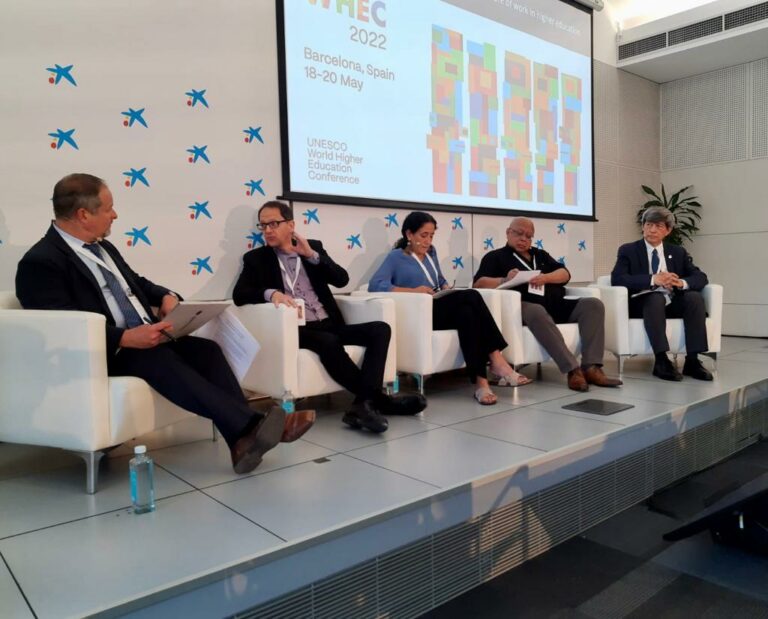 IAUP at UNESCO World Higher Education Conference 2022
The International Association of University Presidents (IAUP) was present at the UNESCO World Higher Education Conference 2022 in Barcelona from May 18-20, taking part in several discussions reaffirming the importance of higher education as a public good and a human right, and underlining the need to promote local and global equity of university access.
Participations included: a Forum titled "The Digital Transformation Agenda in Higher Education in the Post-Pandemic", organized by The Dialogue, Catesco, and IAUP; the Round Table Fireside Chats on Higher Education and International Development, where several perspectives of funding were discussed; Fireside Chats on Higher Education and (Inter)National Development, an event promoted by UNESCO/IESALC; and a panel with representatives from Germany, Argentina, Malaysia, and the USA called "Setting the Terms: The Future of Work in Higher Education", by Education International and IESALC.
Some of the topics addressed were: the regulatory challenges and opportunities accelerated by the pandemic in Higher Education Institutions of different countries, how to to strengthen international alliances and which of these were formed during the pandemic, and what opportunities for collaboration exist for the future, among others.
IAUP Secretary General, Dr. Fernando Galván, also moderated a panel on "The Role of Universities and Students in Fulfilling the Objectives of the Agenda 2030 of the UN", at the European Union – Latin America Forum held at Casa América in Catalonia.
The WHEC2022 involved a broad range of stakeholders with interest in higher education, activating a global conversation nurtured by diverse narratives on higher education, that sought to reinforce the capacities of higher education institutions, leaders, and policymakers to create, adapt and/or improve higher education for sustainable futures.