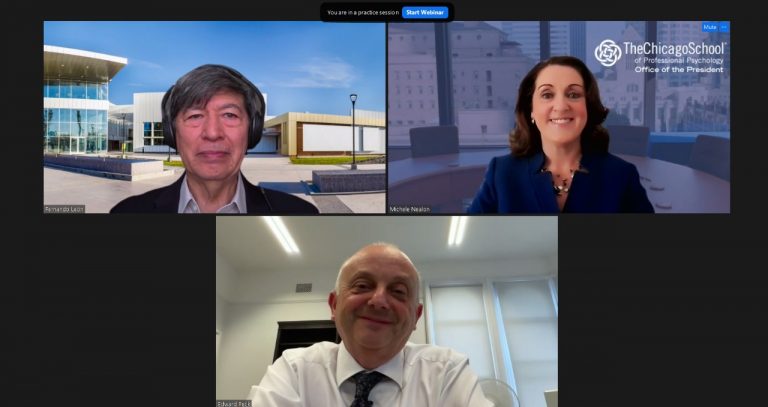 How can higher education institutions meet surging demand for Mental Health support?
The last session of the IAUP three-part Webinar series with The Chicago School of Professional Psychology (TCSPP) took place on September 6, 2022, with attendees from
North and South America, Asia, Europe, and Africa.
In this session, the first designated 
UK Student Support Champion
,
Nottingham Trent University (NTU) Vice Chancellor, Dr. Edward Peck, joined Dr. Michele Nealon, TCSPP President, in discussing
"How higher education institutions can meet surging demand for Mental Health support"
and answering questions from participants.
In her remarks, President Nealon spoke about current trends, sharing statistics on students who were likely to require some support, and referred to the notion of building a "culture of wellness" including both internal and external stakeholders. She also shared concrete examples of institutions who successfully implemented such strategies, stressing that all actions taken by universities must be accessible, easy and scalable and that student wellness is a team effort.

In his participation, Dr. Peck presented a comparative perspective on student mental health in the UK, providing examples of how these issues are addressed. He agreed with Dr. Nealon's perspective on the importance of sharing information within the institution, broader support networks, and developing resilience, while adding the importance of Student Data Analytics in anticipating and identifying student mental health needs.
In case you missed them, the first two sessions are available to view
here
.