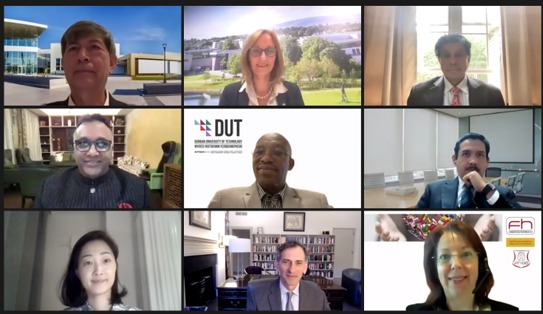 International Day of Peace Virtual Panel
On September 21, 2022, IAUP and CETYS University held the International Day of Peace Virtual Panel, "Building Peace: The Role of Higher Education Institutions", with experts from around the world discussing this important topic, and attendees from six continents.
Speakers included: Dr. Fernando León-García, IAUP President and President of CETYS University; Dr. Joel Rosenthal, President, Carnegie Council for Ethics in International Affairs; Dr. Hilligje van't Land, Secretary General, IAU; Dr. Thandwa Mthembu, VC, Durban University of Technology; Dr. C. Raj Kumar, Vice Chancellor of the OP Jindal Global University in India; Dr. Yoonhee Hwang, UNAI-Korea; Dr.  Margarethe Ueberwimmer, University of Applied Sciences, Upper Austria; Ambassador Ruchira Kamboj; and Ramu Damodaran, Honorary Adviser, University for Peace, as Moderator.
The conversation began with Dr. León-García recalling the context of the foundation of the IAUP almost 60 years ago, an effort that sought to create unity and protect the right to education in the midst of global tensions. 
Dr. Rosenthal further contextualized internationalization today, referring to two competing worldviews happening in real time: an autocratic vision based in ethnonationalism, and a "new oligarchic" vision based on wealth, individualism and disruption, that places little emphasis on pressing global issues. He concluded that higher education institutions must lead, or at least be a part of, a clear view of internationalization focusing on solidarity.
Agreeing with Dr. Rosenthal's views, Dr. van't Land looked back upon strategies and collaboration stemming from the pandemic, both in higher education and beyond, while speaking about the creation of the IAU in an effort to continue promoting peace. 
Dr. Mthembu touched upon the concept of "deliberate and sustainable peace", involving democracies where evidence, reason, and deliberation is superior to the number of people supporting an idea, and where developments meet the needs of the present without compromising the future.
Speaking about the role of universities in promoting peace, Dr. Kumar pointed out the importance of addressing discrimination by listening and engaging with those who experience this first-hand, actively challenging efforts to promote violence in society, cultivating values and engagement, and ensuring communities beyond institutional walls have the tools to deal with these topics.
Further developing on this idea, Dr. Ueberwimmer spoke about the need for students to experience and learn from other cultures, obtaining competencies that help them understand, communicate, innovate and solve conflicts with people from different backgrounds. 
Sharing a specific example of how these values are promoted through UNAI, Dr. Hwang talked about environmental, social and governance criteria (ESG), and how universities, government, NGOs and companies can work together to achieve SDGs.
Finally, in a video message, Ambassador Ruchira Kamboj reiterated the importance of peace, condemning racism and discrimination as the antithesis of everything humanity stands for. Dr. Damodaran ended the session thanking speakers and attendees.