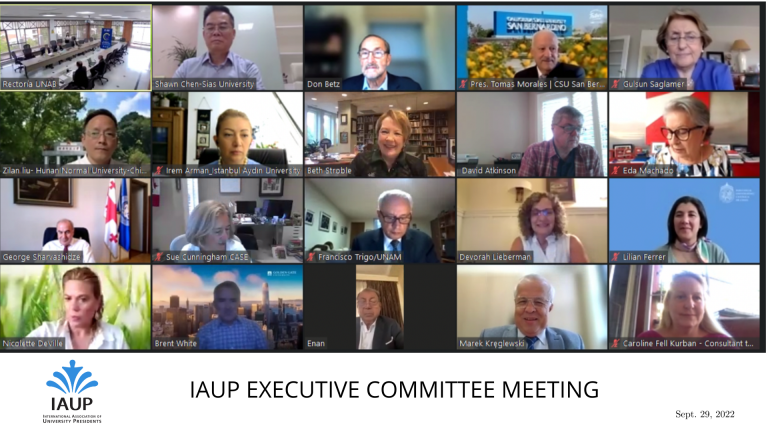 Executive Committee holds 4th Meeting of 2021-2024
On Thursday September 29, 2022, under a hybrid format at Universidad Autónoma de Bucaramanga (UNAB) in Colombia, beginning at 5:30 am PDT and covering time zones extending from the Americas to Asia with over thirty participants from seventeen countries, the International Association of University Presidents (IAUP) Executive  Committee (EC) held its fourth meeting for the 2021-2024 period.  
Dr. Fernando León-García, 2021-2024 IAUP President, welcomed all attendees, while UNAB President Juan Camilo  Montoya delivered a welcome message to participants at the 2022 IAUP Regional Meeting hosted by UNAB in the  context of the 70th Anniversary of UNAB and the 400th Anniversary of Bucaramanga.  
During the Meeting, Dr. León García shared recent and upcoming activities, as well as advancements on the different initiatives brought forth by both this Presidency and the Executive Committee in previous meetings, covering topics such as Women's Leadership, Innovation, and the Post-Pandemic, among others.