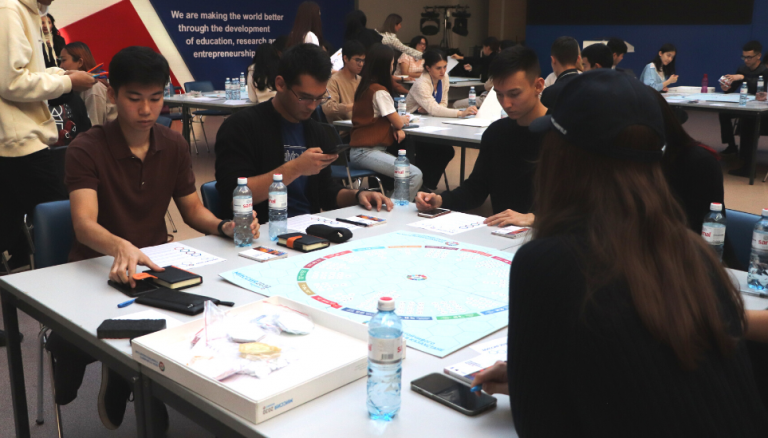 SDGs Business Game "Mission 2030" by AlmaU
On 20 October 2022, IAUP member institution, Almaty Management University (AlmaU) hosted the Mission 2030 Business Game for students. The event was held on the theme of the implementation of the Sustainable Development Goals (SDGs). The Business Game was opened by the Rector of AlmaU – Gulnara Kurenkeyeva.
54 students from six Kazakhstani Universities (Narxoz University, KIMEP, KazNAIU, KazNU, KBTU and AlmaU) participated in SDGs Business Game. The Business Game "Mission 2030" was jointly held by the Center for Sustainable Development at AlmaU and AlmaU student club "SDG Legion".
During the game, the participants played "Game of goals". At the end of the event, a participant from each team spoke on the topic "Which of the 17 Sustainable Development Goals did they choose? What proposals do they have for achieving it in Kazakhstan? Why is she so important to them?" The purpose of the game is to identify priority tasks from the point of view of the youth of Kazakhstan, as well as to increase the awareness of young people about SDGs.
The business game was developed according to the methodology of UNDP and the Asian Development Bank. There were 4 moderators from the Institute for Economic Research under the Ministry of National Economy. The event was held with the participation of representatives of the Institute for Economic Research – the Secretariat of the National Commission for SDGs. The SDGC is aimed at coordinating all the activities promoted in the University regarding sustainable development, social responsibility and Third Mission. The Center aims at increasing the social responsibility of the university's community (students, faculty, and staff) and engaging local communities to accept actual and future social challenges through the promotion of attitudes and values such as sustainable development, participation in decision-making, gender awareness, leadership, community service and civic development.
Activities are targeted to: – promote academic literacy in sustainable and social issues, increase capacity building of faculty by granted international programs, seminars and conferences – support research projects – enhance international commitment in sustainable and social issues, engaging in international platforms and networking – monitor activities to transform the campus life into more sutainable and socially responsible.