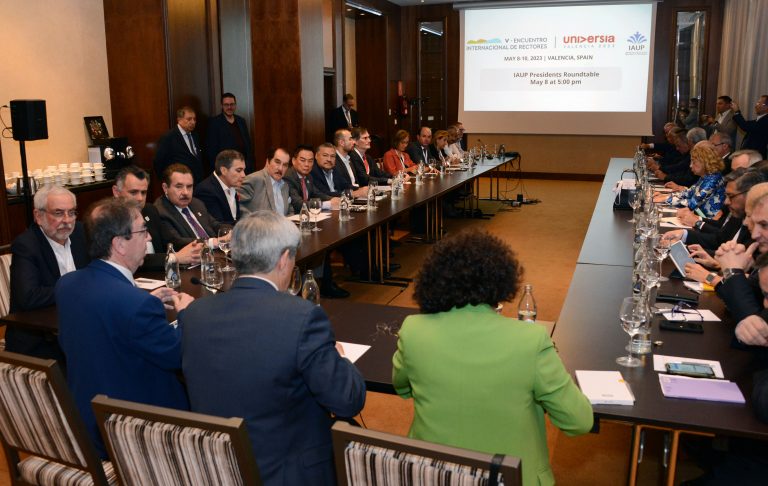 IAUP at the 2023 International Presidents Meeting Universia in Valencia
The IAUP Presidents Roundtable was held on May 8, 2023, during the 2023 International Presidents Meeting (Encuentro Internacional de Rectores) – Universia in Valencia, Spain, where 20 speakers from 10 countries in the Americas, Europe, Asia and Africa, and multiple higher education institutions and organizations, shared their experiences and insights on the current and future landscape of higher education.
About the V International Presidents Meeting Universia (V Encuentro Internacional de Rectores Universia)
The V International Presidents Meeting Universia is being held in Valencia, Spain, from May 8-10, 2023. Close to 700 higher education leaders from 14 countries have come together to discuss "University and Society," through multiple panel sessions involving 40 expert speakers.
The event was inaugurated on May 9th by the President of the Government of Spain, Pedro Sánchez, together with Ana Botín, President of Banco Santander and Universia, and IAUP member Enrique Graue, President of the National Autonomous University of Mexico (UNAM) and President of the International Committee for the Meeting.
Aiming to discuss the crucial role of universities as catalysts for social and economic development, with a focus on sustainability, guest speakers for the Presidents Meeting included highly notable figures from various fields, such as: scientist and academic Tim Berners-Lee, inventor of the World Wide Web; Larry Summers, former Secretary of the Treasury under President Bill Clinton and Chief Economist of the World Bank; Ignacio Cirac, recipient of the Prince of Asturias Award for Scientific Research in 2006, and Pilar Manchón, Head of Conversational AI Research Strategy at Google AI, along with other renowned international experts.
The conclusions of this important event will be reflected in the "Declaration of Valencia", capturing higher education leaders' commitment to advancing the university's contribution to progress through specific lines of action.
"Creating new frameworks and networks for mobility"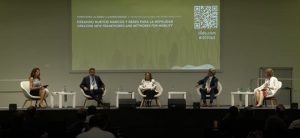 IAUP President, Dr. Fernando León García, took part in Panel I, "Creating new frameworks and networks for mobility", where, together with President João Sàágua of Universidade NOVA de Lisboa (Portugal), President Esther Lucía Sánchez of Universidad Nacional de Cuyo (UNCUYO – Argentina), and Hilligje van't Land, Secretary-General of the International Association of Universities (IAU), he explored innovative approaches to facilitate and enhance international mobility, enabling students, researchers, and academics to collaborate and exchange knowledge across borders, promoting a more interconnected and globally engaged higher education community.
Promoting collaboration across borders
During the event, IAUP member institutions Universidad de Valencia and CETYS Universidad formalized a collaboration agreement. Presidents Fernando León García and María Vicenta Mestre solidified their commitment to fostering academic partnerships and knowledge exchange, increasing international cooperation, and providing new opportunities for the academic community.