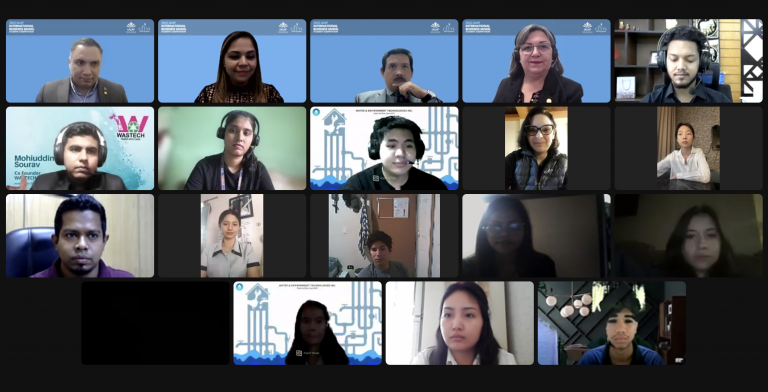 IAUP Student Competition Awards Ceremony 2023: Innovation and Sustainable Solutions
The 2023 Awards Ceremony of the second IAUP International Business Model Student Competition, in collaboration with CETYS University, took place on May 31, 2023, with close to 40 international teams from 6 countries and diverse backgrounds and disciplines who demonstrated their passion for shaping a better future by crafting innovative solutions that contribute to the fulfillment of the 17 Sustainable Development Goals set forth in the United Nations 2030 Agenda for Sustainable Development.
Claiming the first-place spot was Good Growth from the International University of Business Agriculture and Technology (IUBAT) in Bangladesh. This comprehensive business model for a sustainable and nourishing food chain to ensure healthy food for everyone encompassed multiple Sustainable Development Goals, including reducing pollution, technological innovation, reducing inequality, and economic growth.
Securing second place was the project Reusing Greywater: A Design Incorporating Water Level Indicator to Household Piping System, developed by students from the Technological Institute of the Philippines. Their solution focused on a solution that transforms traditional liquid and solid wastes into valuable products without discharging any effluent into the environment.
In third place, Wastech from Daffodil International University in Bangladesh presented an innovative approach to waste management, with a one stop solution for demand-wise waste collection and customization of segregated waste into up-cycled and reciclable merchandise.
A panel of independent experts evaluated projects from around the world, considering their alignment with Sustainable Development Goals such as quality education, industry and innovation, gender equality, and responsible consumption and production, with a process that highlighted the creativity and efficacy of the participating teams' solutions.
In total, 70 teams from 6 countries registered to participate in this competition, which featured a First Place prize of $2500 USD, Second Place prize of $1500 USD and Third Place prize of $1000 USD.
About the IAUP Student Competition
Under the IAUP's 2021-2024 Strategic Initiatives, the competition emerged as a pilot program that aimed to help advance sustainable development efforts. Participating students were tasked with creating business models that addressed unmet needs or problems on national and international scales, while aligning with at least one objective of the 2030 United Nations Development agenda.