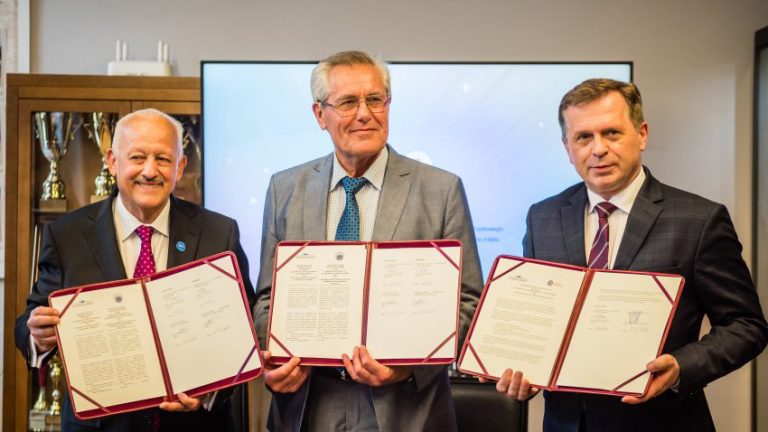 CSUSB Signs Trilateral Agreement to Foster Entrepreneurship
On May 24-25, 2023, a delegation from California State University San Bernardino (CSUSB) met with the leadership of Krakow University of Economics (Poland) and Lviv Polytechnic National University (Ukraine) in Krakow, Poland, with the purpose of solidifying their commitment to fostering entrepreneurship through the signing of a trilateral agreement.
The partnership between CSUSB, KUE, and LPNU marks a significant milestone in the pursuit of global entrepreneurship collaboration. Joint initiatives include exchange programs, a small business incubator, and projects related to startup development and driving entrepreneurship. By leveraging the expertise and resources of each institution, this collaboration seeks to create an environment conducive to innovation and cross-cultural understanding.
University leaders present at the meetings included Tomas D. Morales, President of CSUSB; Robert Nava Vice President for Advancement; Tomas Gomez Arias, Dean of the Jack H Brown College of Business and Public Administration; Dr. Hyunkyoung Oh, Interim Dean and Faculty Director of Internal Programs, College of Extended and Global Education; and Dr. Mike Stull, Director of the School of Entrepreneurship, who met with LPNU Rector Uurii Bobalo; Dr. Natalia Chukhray, Vice Rector Education and International Relations; Dr. Nazar Podolchak, Director of Science Park; Dr. Olena Pozniakova, Tech Start Up School of LPNU; as well as Professor Stanislaw Mazur, Rector of KUE; Dr. Piotr Kopycinski, Director of Malopolska School of Public Administration; and Stanislaw Alwaiak, Department of Public of Economy and Administration of KUE.