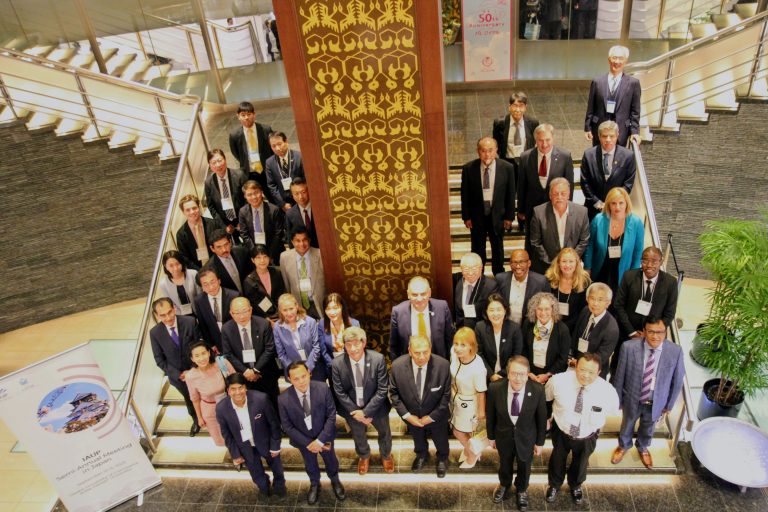 IAUP Semi Annual Meeting is held in Japan
Participants from 14 countries in the Americas, Africa, Europe and Asia, took part in the second IAUP Semi-Annual Meeting of 2023 that was held at Rihga Royal Hotel Osaka in Japan from September 12-15, 2023, with  discussions led by experts in higher education who explored what institutions have what lies ahead in the future of higher education.
Opening remarks at the IAUP Semi-Annual Meeting in Japan were delivered by Dr. Fernando León García, IAUP President, and Dr. Ichiro Tanioka, Chairman of the Board of Gakuen Educational Foundation, institution that co-hosted the event. The program included several panel sessions as well as cultural activities, networking events, and the signing of several Memorandums of Understanding between IAUP members.
Highlights:
Panel Session Ⅰ: Transformational Leadership in Higher Education
Moderator – Fernando León-García, President of IAUP and President of CETYS University (Mexico)
– Lethokwa Mpedi, University of Johannesburg (South Africa)
– Shawn Chen, SIAS International University (China)
– Tomás Morales, California State University (USA)
– Antonio Leaño, Universidad Autónoma de Guadalajara (Mexico)
Panel Session Ⅱ: Developing Well Rounded Graduates and Employability: Do we have to choose?
Moderator – Fernando Galván, Universidad Alcalá de Henares (Spain)
– Assylbek Kozhakhmetov, Almaty Management University (Kazakhstan)
– Takahiro Ono, Kyoto University of Foreign Studies (Japan)
– Xie Hui, Hunan University of Science and Technology (China)
– Balvir Tomar, NIMS University (India)
Panel Session Ⅲ: Women's Leadership: Challenges and Opportunities
Moderator: Ramu Damodaran (UN)
– Elizabeth Stroble, Webster University (USA)
– Carmen Lamagna, American International University (Bangladesh)
– Devorah Lieberman, University of Laverne (USA)
– Eun-jo Lee, Seoul Cyber University (Korea)
Panel Session Ⅳ: The Changing Dynamics of Higher Education: A Comparative Perspective on Enrollment Trends
Moderator – Gerald Reisinger, University of Applied Sciences Upper Austria (Austria)
– Ichiro Tanioka, Tanioka Gakuin Educational Foundation (Japan)
– Sabur Khan, Daffodil International University (Bangladesh)
– Sandeep Pachpande, ASM Group of Institutes (India)
– Stephen Williams, Nottingham Trent University (UK)
Panel Session V: AI, Chat GPT, and Technology: Temporary or Here to Stay?
Moderator – Noé Chirino, CETYS University (Mexico)
– Randy Frisch, City University of Seattle (USA)
– Thandwa Mthembu, Durban University of Technology (South Africa)
– Abubokor Hanip, Washington University of Science and Technology (USA)
– Ylva Rodny-Gumede, University of Johannesburg (South Africa)