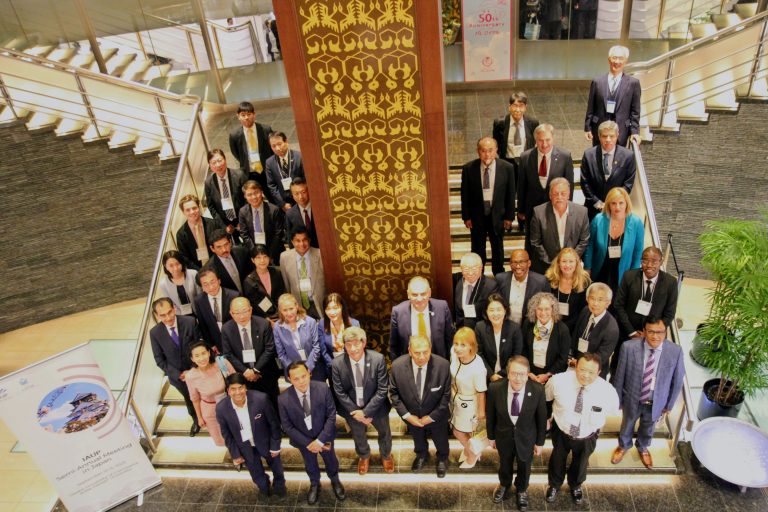 IAUP Semi Annual Meeting is held in Japan
Participants from 14 countries in the Americas, Africa, Europe and Asia, took part in the second IAUP Semi-Annual Meeting of 2023 that was held at Rihga Royal Hotel Osaka in Japan from September 12-15, 2023, with  discussions led by experts in higher education who explored what institutions have what lies ahead in the future of higher education.
Opening remarks at the IAUP Semi-Annual Meeting in Japan were delivered by Dr. Fernando León García, IAUP President, and Dr. Ichiro Tanioka, Chairman of the Board of Gakuen Educational Foundation, institution that co-hosted the event. The program included several panel sessions as well as cultural activities, networking events, and the signing of several Memorandums of Understanding between IAUP members.
Gallery
Highlights
Panel Session Ⅰ: Transformational Leadership in Higher Education
Moderator – Fernando León-García, President of IAUP and President of CETYS University (Mexico)
– Lethokwa Mpedi, University of Johannesburg (South Africa)
– Shawn Chen, SIAS International University (China)
– Tomás Morales, California State University (USA)
– Antonio Leaño, Universidad Autónoma de Guadalajara (Mexico)
The importance of promoting inclusivity within educational institutions to ensure they are open to a diverse range of students and ideas.
The panel highlighted that universities should strive to be leaders and agents of positive change within society, emphasizing the need for a visionary approach that achieves access, excellence and innovation.
Transformational leadership was discussed as a common and impactful approach to leadership.
The unique context of private universities in China was explored, with a focus on internationalization, linking to U.S. degrees, and addressing social responsibility.
Successful development of large universities, such as San Bernardino, was discussed in terms of their adaptability, diversity, mobility and civic engagement.
Panel Session Ⅱ: Developing Well Rounded Graduates and Employability: Do we have to choose?
Moderator – Fernando Galván, Universidad Alcalá de Henares (Spain)
– Assylbek Kozhakhmetov, Almaty Management University (Kazakhstan)
– Takahiro Ono, Kyoto University of Foreign Studies (Japan)
– Xie Hui, Hunan University of Science and Technology (China)
– Balvir Tomar, NIMS University (India)
The panel addressed the ongoing dilemma of whether universities should focus on preparing responsible citizens or highly professionalized graduates.
The concept of "well-rounded graduates" was addressed, meaning students should have both employability skills and a broader education.
Skills such as critical thinking were identified as essential for preparing students to be responsible citizens and adaptable in the future job market.
The discussion touched on balancing technical skills with a broader understanding of subjects, history, and culture.
Panelists shared the opinion that the best option is having both: well rounded responsible citizens and highly skilled professionals.
Panel Session Ⅲ: Women's Leadership: Challenges and Opportunities
Moderator: Ramu Damodaran (UN)
– Elizabeth Stroble, Webster University (USA)
– Carmen Lamagna, American International University (Bangladesh)
– Devorah Lieberman, University of Laverne (USA)
– Eun-jo Lee, Seoul Cyber University (Korea)
The panel focused on the need for diversity, equity, inclusion, and belonging in leadership, emphasizing that the initiative isn't solely about women but about all individuals.
The Initiative will focus on collecting data on women in leadership positions and developing pipelines for the future.
It is intended to be a year-long effort, and welcomes participation from both men and women.
The role of mentors, both male and female, in helping individuals ascend to leadership roles was highlighted, making it possible for everyone to share their stories and be involved in fostering diversity in leadership.
Panel Session Ⅳ: The Changing Dynamics of Higher Education: A Comparative Perspective on Enrollment Trends
Moderator – Gerald Reisinger, University of Applied Sciences Upper Austria (Austria)
– Ichiro Tanioka, Tanioka Gakuin Educational Foundation (Japan)
– Sabur Khan, Daffodil International University (Bangladesh)
– Sandeep Pachpande, ASM Group of Institutes (India)
– Stephen Williams, Nottingham Trent University (UK)
Discussion on global enrollment trends revealed that some regions are experiencing an increase in student populations, while others face declines.
Challenges of rural areas losing students to urban centers were mentioned, causing social and infrastructural problems.
Specific insights were provided about Japan, where there's a declining number of young people and increased migration to cities.
The role of India as a potential provider of a workforce and its challenge of maintaining quality education with a growing population was discussed.
Enrollment trends in the UK, including the issue of living costs in major cities, and the development of training universities were explored.
Panel Session V: AI, Chat GPT, and Technology: Temporary or Here to Stay?
Moderator – Noé Chirino, CETYS University (Mexico)
– Randy Frisch, City University of Seattle (USA)
– Thandwa Mthembu, Durban University of Technology (South Africa)
– Abubokor Hanip, Washington University of Science and Technology (USA)
– Ylva Rodny-Gumede, University of Johannesburg (South Africa)
The growing role of artificial intelligence (AI) in education and its long-term impact was discussed.
Pros included faster organization and data access as well as personalized education, with challenges such as potential for bias, and ethics issues.
The panel encouraged institutions to take the lead in using and developing technology effectively and to consider AI's impact on education.
View Panel Sessions here.
MOU Signing
During the Semi-Annual Meeting IAUP members had the opportunity to formalize Memorandums of Understanding, further solidifying their commitment to international collaboration and fostering academic cooperation, including:
ASM Group of Institutes (India)
CETYS University (Mexico)
NIMS University (India)
Pan Pacific University (Philippines)
University of Johannesburg (South Africa)
Washington University of Science and Technology (USA)