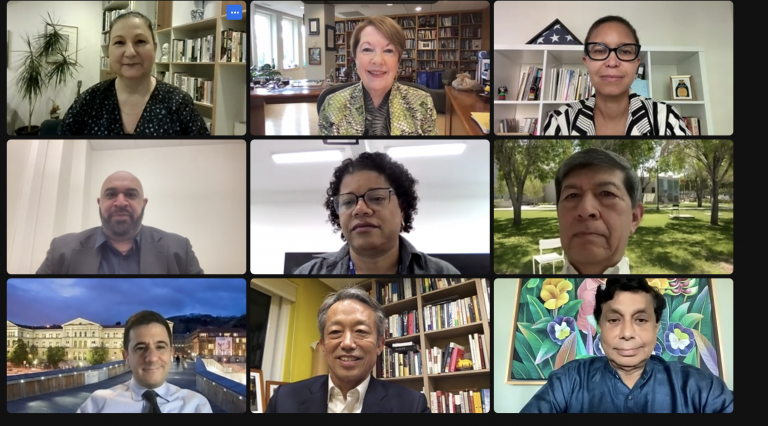 Looking to the Future: The Role of Higher Education in Fostering Peace
In commemoration of the International Day of Peace on September 21, 2023, the IAUP held a virtual discussion titled "Looking to the future" and featuring prominent leaders from around the world, organized together with Dr. Ramu Damodaran, Advisor for the University for Peace.
In his opening remarks, IAUP President Fernando León-García highlighted the significance of the day and the association's commitment to promoting peace through higher education. He also emphasized the importance of gender equality in leadership roles within academic institutions, echoing the association's commitment to advancing women in academia.
Speakers included:
Ambassador Won-soo Kim, Rector of the Global Academy for Future Civilizations, Kyung Hee University
Amy Malcolm, Auckland University of Technology
Dr. LaNitra Berger, President and Chair of the Board of Directors, NAFSA, Association of International Educators
Dr. Lavern Samuels, President of the International Education Association of South Africa
Dr. Evanilda Souza de Santana Carvalho, Universidade Estadual de Feira de Santana, Brazil
Dr. Inigo Arbil Onate, Deusto University, Spain
Dr. Elizabeth Stroble, Chancellor, Webster University, United States
In his address, Ambassador Won-soo Kim, a prominent figure in peace-building, stressed the role of higher education in fostering peace and global citizenship. He discussed the challenges humanity faces, including climate change and global governance failures, underscoring the need for collective action to address these existential threats. He urged leaders from governments, civil society, and the private sector to work together to safeguard our planet and promote a more sustainable and peaceful future.
Amy Malcolm, from the Auckland University of Technology (AUT), emphasized the profound role of creativity in connecting people from diverse backgrounds and cultures, serving as a powerful tool for facilitating deep and meaningful communication, enabling difficult conversations, and bridging cultural divides. She stated that by encouraging and nurturing creativity at both the individual and community levels, she stated we can address the complex challenges of our time.
In her participation, Dr. LaNitra Berger shared a compelling example of how international education and creativity can intersect with social justice and peacebuilding, and emphasized the democratization of international education, an endeavor that should not be confined to the elite. She underscored the pivotal role of university presidents in declaring and supporting their commitment to campus internationalization, which encourages people-to-people exchanges and builds relationships, leading to greater social justice and peace on a global scale.
Talking about the critical role of universities and international education in shaping a global commons of scholars, scholarship, and engagement, Dr. Lavern Samuels highlighted the need for universities to bridge the gap between societies, fostering communication at a people-to-people level. He called for a shift from exclusive and elitist internationalization to a more inclusive and comprehensive approach that creates global citizens who understand local, national, regional, and global contexts and can bridge them effectively.
Dr. Evanilda Souza emphasized the vital role of nursing education in promoting peace and global well-being. She highlighted the importance of educating nursing professionals with a global perspective and urged a shift away from a profit-driven approach toward a more caring perspective to ensure the well-being of vulnerable populations, as peace cannot be achieved when people lack basic necessities.
Dr. Inigo Arbil stressed that achieving SDGs and promoting peace and stability require a multi-level and multi-stakeholder approach, which includes universities. Localization of sustainable development is a crucial step in bridging the gap between global agendas and local realities, that in turn contributes to a more peaceful and sustainable world.
Dr. Elizabeth Stroble reiterated the role university presidents play in equipping students to be global citizens.
Finally, Ambassador Kim expressed his gratitude for the valuable insights shared during the discussion and underscored the importance of working collaboratively to shape a better future with and for the youth.