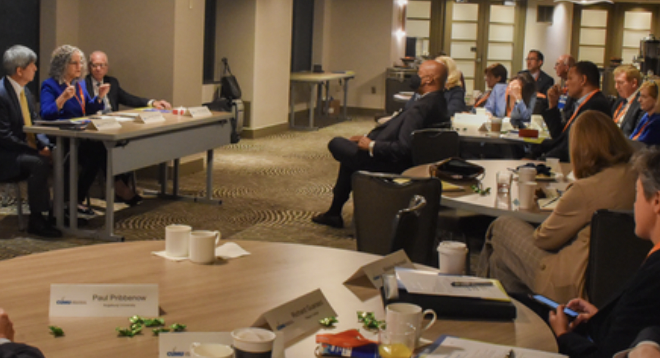 IAUP Shares Insights on International Education on Urban Campuses
Invited by the Coalition of Urban and Metropolitan Universities (CUMU), IAUP and CETYS President Dr. Fernando León García took part in a panel discussion during its 28th Annual Conference "Resilient Campuses. Resilient Cities", held in Washington, DC from October 15-18, 2023. The session on International Education on Urban Campuses also featured Dr. Allan Goodman, Chief Executive Officer of the Institute of International Education and IAUP Advisor, as well as Dr. Devorah Lieberman, President Emerita of the University of La Verne and IAUP Executive Committee Member.
All three exchanged insights and perspectives on the crucial role of international education in this context, exploring the challenges and opportunities associated with fostering global perspectives in urban educational settings in the constantly evolving landscape of internationalization in higher education. Dr. León García shared results of recent surveys, and together with Dr. Goodman discussed opportunities, practices, initiatives and innovations to increase participation in urban settings.