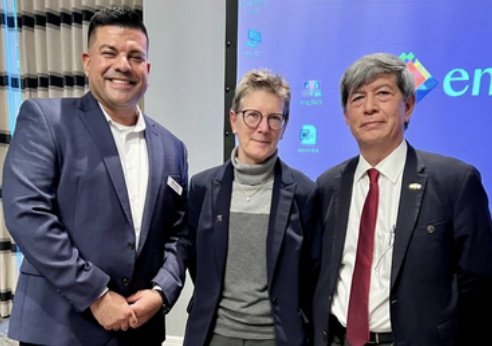 Impactful Discussions: IAUP at AASCU 2023 Conference
The IAUP was part of of the American Association of State Colleges and Universities (AASCU) 2023 Annual Conference which took place on Nov. 4-7, 2023 in Chicago, Illinois. Dr. Fernando León García, IAUP and CETYS President, participated in a discussion centered around the Binational Dialogue on Regional and Workforce Development & Stewardship of Place which also featured Kristin G. Esterberg, Chancellor of the University of Washington Bothel and José Cabrales, COO of the AASCU.
The session served as a platform for leaders to share their expertise and perspectives, addressing, among other topics, critical issues related to education's role in shaping regional landscapes and fostering workforce development, showcasing a collaborative effort to navigate challenges and contribute to the broader dialogue on higher education's impact on society.
IAUP Executive Committee Members, such as Dr. Mildred García, Former AASCU President and recently appointed California State University President, as well as Dr. Tomás Morales, President of California State University San Bernardino, were also part of this conference which offered the opportunity to engage with experts and colleagues in exploring how to be effective in the new leadership landscape.