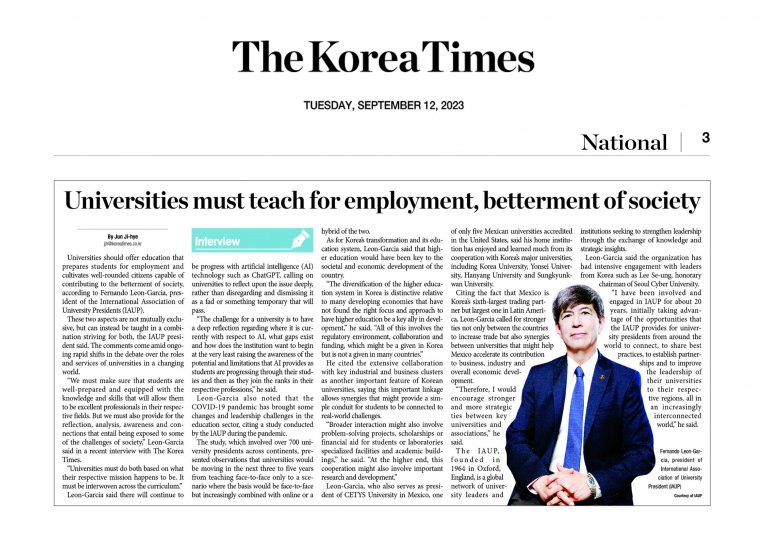 "Universities Must Teach for Employment, Betterment of Society": Korea Times Interview
In a recent interview with The Korea Times, IAUP and CETYS University President Dr. Fernando León-García addressed the multifaceted role of higher education institutions in today's evolving world and the importance of preparing students for successful careers while also nurturing well-rounded individuals who can contribute positively to society.
Leon-Garcia stated that these dual objectives should be integrated within the curriculum, promoting a balanced approach that isn't mutually exclusive. With rapid advancements in technology, especially artificial intelligence (AI), he urged universities to reflect on their role in equipping students with the knowledge and skills to navigate the AI-driven world effectively, rather than dismissing it as a passing trend.
These topics were later echoed in two of the panels at the IAUP Semi-Annual Meeting in Japan, an event that garnered higher education experts from across the world.
He also highlighted that the COVID-19 pandemic has prompted a transformation in higher education, including a shift towards hybrid teaching models, and emphasized the vital role of universities in forging partnerships with industry and businesses, creating opportunities for students to engage with real-world challenges, collaborative research, and development.
Lastly, Dr. León García called for stronger ties and strategic collaborations between universities and associations, recalling the IAUP's role in facilitating knowledge exchange and leadership enhancement among global university leaders.
Read the full interview here.