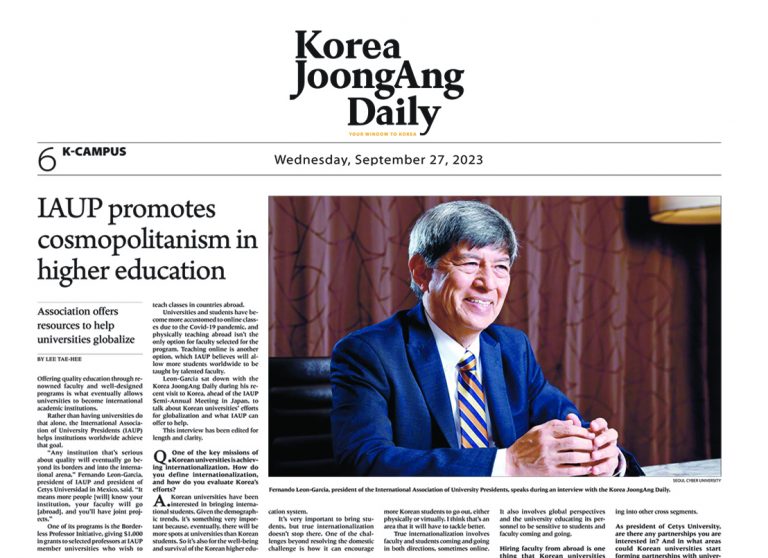 IAUP's Role in Shaping Global Education
In today's rapidly-changing educational landscape, the IAUP is at the forefront of facilitating global collaboration and ensuring that quality education transcends borders. A recent article by the Korea JoongAng Daily, published after the IAUP Semi-Annual Meeting in Japan, explores the IAUP's mission and initiatives, highlighting its contributions to the transformation of global education.
In an interview, IAUP and CETYS University President, Fernando Leon-Garcia, emphasized that "any institution committed to quality will eventually expand beyond its local boundaries and embrace the global stage".
Mentioned among the IAUP's notable programs is the Borderless Professor Initiative, which enables select professors from IAUP member institutions to teach in foreign countries, addressing the challenge of recruiting faculty from overseas, and providing a more flexible and cost-effective way to access a global talent pool.
President Leon-Garcia also highlighted the pivotal role of Korean universities in the pursuit of internationalization, stressing the need not only to attract international students but also to encourage Korean students to explore global opportunities.
He shared potential areas of collaboration between Korean and Mexican universities, underlining the importance of establishing connections with industries, as these partnerships can lead to mutually beneficial engagements, opening doors to innovation and growth on a global scale.
To read the complete article click here.