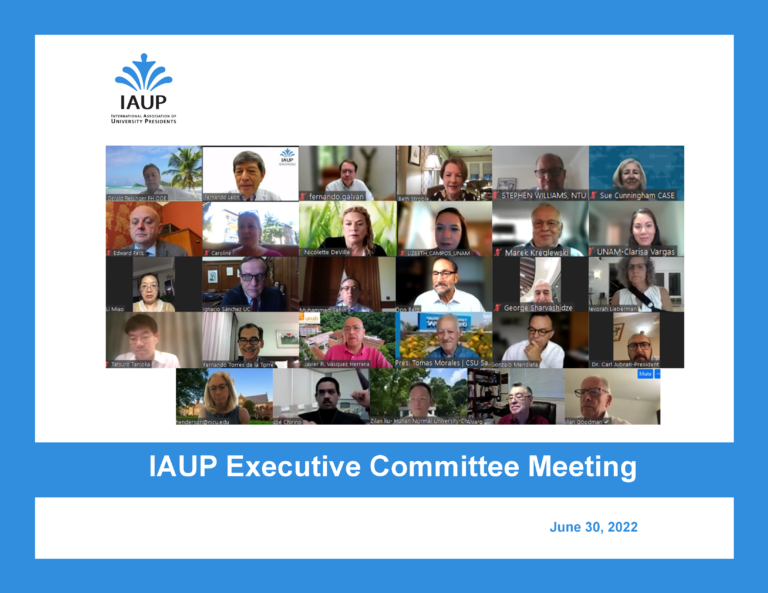 Executive Committee holds third meeting of 2021-2024
On Thursday, June 30, 2022, under a virtual format, beginning at 5 am PDT, covering time zones extending from the Americas to Asia, and with over 29 participants from 16 countries, the International Association of University Presidents (IAUP) Executive Committee (EC) held its third meeting for the 2021-2024 period.
The session covered key past and upcoming IAUP activities such as the Triennial Conference, the Leadership Development for New Presidents and Emerging Leaders, the INQAAHE 2022 Forum, the Webinar Series with Arizona State University  and The Chicago School for Professional Psychology, the International Business Model Student Competition,  the IAUP Regional Meeting in September in Bucaramanga, Colombia, as well as the Student Exchange Bank and the Borderless Professor Initiative.
Other strategic activities mentioned included participation in upcoming events from partner associations such as  CASE and ACE, the next iteration of the IAUP Global Survey on Leadership Challenges in a Post Pandemic Era, as well as an increased focus on Women's Leadership across IAUP efforts.
Previous meetings were held in December 2021 and March 2022.